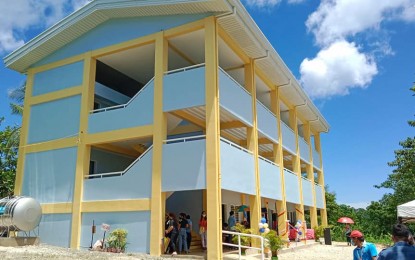 SAN REMIGIO, Cebu – Come the resumption of face-to-face classes in August after more than two years, Dapdap Elementary School and Maño Integrated School in San Remigio, Cebu will have a new three-story building each.
Juvelyn Cabatana, a fifth-grade teacher in Dapdap, said the new building is an answered prayer and will improve the learning environment.
"We're very happy. One of our major problems here is lack of classrooms," she said in a recent interview. "We are so blessed because we were chosen as one of the beneficiaries."
She said even the school clinic has been utilized as classroom, some students occupy makeshift classrooms and tents, and others have to share classrooms, which she said distracts students and makes them feel that they don't belong to the class.
Lomer Makipig, Grade 8 teacher at Maño, said their new building which will have six classrooms opens up the possibility of accepting more junior high school enrollees or transferees.
"This situation has been difficult not only for learning but also during school activities like card distribution," he said in the vernacular in another interview. "The new classrooms will positively impact and aid students to focus and absorb more lessons and topics."
He added it will also be easier for teachers to implement teaching strategies and effectively reach their students.
The new buildings, turned over last month, were made possible by the collaboration among Ramon Aboitiz Foundation Inc.'s Education Development Unit, Department of Education, local government and village officials, and other stakeholders. (PNA)