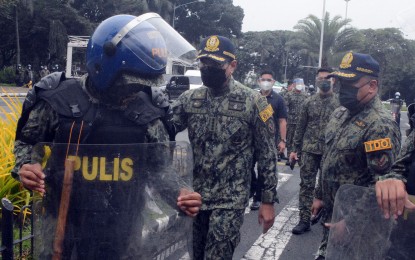 MANILA – The Philippine National Police (PNP) has started laying out security preparations for the first State of the Nation Address (SONA) of President Ferdinand "Bongbong" Marcos Jr. at the Batasang Pambansa in Quezon City this month.
PNP director for operations Maj. Gen. Valeriano de Leon said coming up with a security plan early would allow them to cover every situation outside and inside the venue premises.
"We want to prepare as early as possible so that we can have the best security measures for the SONA. We want to come up with a good template, a good security plan that we will present to our PNP OIC (officer-in-charge) Lt. Gen. Vicente Danao Jr. for review and approval," he added.
De Leon said the force would bank on past SONAs to ensure that there will be no security glitches.
"For this year, I will personally supervise the preparations to come up with the best security plans that will be implemented for the first SONA of our President Bongbong Marcos," he added.
Part of the planning is how to deal with the protesters, he said.
Protesters, he said, can use freedom parks where they can hold their programs.
"We respect the role of the protesters in what they would do, but your PNP will not allow them to disrupt any activities that include causing trouble and creating traffic on any busy roads in Metro Manila. We will not disturb their program and we will not even ask for any permit for their activity provided that they do not go out of the designated freedom parks," he added. (PNA)