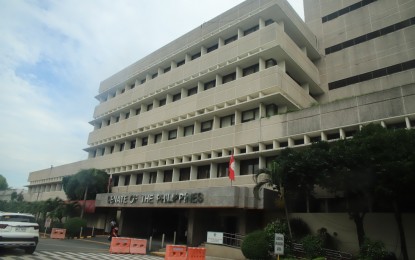 MANILA – The first round of filing of bills in the Senate started on Monday hours before the 19th Congress opened at noon.
Senator Loren Legarda, based on the principle of seniority or length of service, was the first to file bills following the guidelines issued by Senate Secretary Myra Marie Villarica.
Each senator is allowed to initially file 10 bills or resolutions, which Legarda availed of. (See related story.)
Senators Pia Cayetano, Lito Lapid, and Ramon Revilla Jr., in office for at least 15 years, were next.
Lapid filed the Monthly Social Pension for Indigent Persons with Disability Act; Free Professional Examinations Act; Tourist Protection and Assistance Act; Climate Resilient Agriculture Act; and Medical Bill Transparency Act.
"Makakaasa po kayo na patuloy ang serbisyong nasimulan natin sa nakaraang Kongreso, at higit pa po tayong magsisipag upang makapaghain at makapagpasa pa ng mga batas para sa masa (You can expect that the service I have started in the previous Congress will continue and we will work harder to file bills and pass more laws for the people)," Lapid's statement read.
Revilla filed an amendment to the Centenarians Act of 2016 that will allow those who have not yet reached 100 years old to enjoy part of the PHP100,000 cash grant.
"Upon reaching 80 years old and 90 years old, Filipino elderlies will already receive part of the amount and will receive the remaining benefit upon reaching 100," Revilla said in a statement.
Included as well in Revilla's priority legislative measures are Kabalikat sa Pagtuturo Act (Teaching Supplies Allowances), Direct Financial Assistance to Filipino Rice Farmers, Family Medical Leave Act, and the Karapatan ang Pabahay Act that aims to provide free public housing to homeless, vulnerable, and marginalized Filipinos.
Senators Alan Peter Cayetano, Francis Escudero, and Jinggoy Estrada, who have served for at least 12 years, also submitted their bills.
Among Estrada's priority bills are Strengthening of the National Wages and Productivity Commission; An Act Providing for a Working Time Flexibilization in the Private Sector and for Other Purposes; and An Act Providing Indigent Job Applicants a 20 precent Discount in Payment of Fees and Charges for Certain Certificates and Clearances Issued by Government Agencies.
Senator Sonny Angara, who has served for nine years along with Nancy Binay, Grace Poe, and Cynthia Villar, filed the Exports and Investments Development Act; E-Health System and Services Act; Health Care Facility Augmentation Act; Satellite Specialty Hospital Act; Teaching Supplies Act; Underprivileged Students' Discount Act; Magna Carta for Workers in the Informal Economy; Poverty Reduction Through Social Entrepreneurship Act; Right to Adequate Food Framework Act; and a Resolution urging the Senate Committee on Finance to conduct an inquiry legislation on the budgetary requirements of the government's industrialization and employment-generation initiatives.
Senator Joel Villanueva filed Trabaho Para sa Lahat ng Pilipino Act (Institutionalization of the National Employment Recovery Strategy Program); End of Endo Act (Security of Tenure in the Private Sector); Public Sector Regularization Act (Civil Service Security of Tenure); Institutionalization of TUPAD Emergency Employment Program; Expanding the Unemployment Insurance Benefits Program; Alternative Working Arrangements; Work From Home for Businesses in Economic Zones (Amendments to the CREATE Act); Freelance Workers Protection Act; Magna Carta of Filipino Seafarers; and PHP100 Billion Stimulus for Micro, Small and Medium Enterprises.
"To create more jobs remains my job in our second term in the Senate. Opportunities and job security are what we pushing in these measures to strengthen the country against poverty and crises," Villanueva said in another statement.
Opposition Senator Risa Hontiveros filed SOGIESC Equality Act, Anti Hospital Detention, Lingap Para kay Lolo at Lola Act (Universal Social Pension), Bantay Dagat Welfare and Incentives Act, Rights of Nature Act of 2022, Free Dialysis for Senior Citizens Act of 2022, Philippine Rise Marine Resource Reserve Act, Dissolution of Marriage Act, and Maternity Benefit for Women in the Informal Economy Act.
Senators can file another 10 measures, still following the seniority principle, in the second round.
The third round of filing will be on a "first come, first served" basis for an unlimited number of bills or resolutions.
The guidelines were formulated in consultation with the Office of the Senate President and the Legislation Department. (PNA)