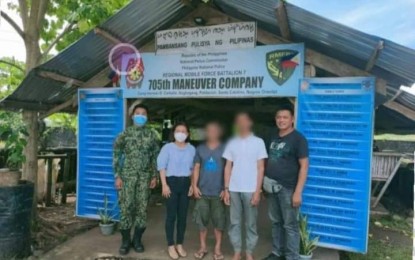 DUMAGUETE CITY – Two more members of the Communist Party of the Philippines-New People's Army (CPP-NPA) have surrendered to police authorities in Sta. Catalina, Negros Oriental on Sunday.
A report from the Negros Oriental Provincial Police Office (NOPPO) on Monday identified the surrenderers as Renato Bagacay, 39, and Vidal Cardinas, 49, both farmers and residents of Barangay Talalak, Sta. Catalina.
They surrendered to the 705th Mobile Force Company of the Regional Mobile Force Battalion 7 in Sta. Catalina.
The police said they are undergoing debriefing and profiling so they can be enrolled in the government's Enhanced Comprehensive Integrated Livelihood Program (E-CLIP).
Sta. Catalina Mayor Peve Ligan facilitated the surrender of the two NPA cadres who are members of the Batakang Organisasyon sa Partido (BOP) organized by Ricky dela Cruz alias Ka Yago.
Dela Cruz, a former rebel operating as a member of the dismantled Southeast Front (SEF) of the Komiteng Rehiyon Cebu, Negros, Bohol, and Siquijor, surrendered a few weeks ago to the 11th Infantry Battalion of the Philippine Army and the police.
Oath of allegiance
Meanwhile, Brig. Gen. Inocencio Pasaporte, commander of the 302nd Infantry Brigade of the Philippine Army, said 19 former rebels took their oath of allegiance to the Philippine flag on Saturday.
He said the 19 who surrendered on separate occasions this year, were former members of the CPP-NPA's Central Negros 2 of the Komiteng Rehiyon Negros.
Pasaporte said the FRs in a ceremony at the 94th IB headquarters in Ayungon, Negros Oriental, denounced the CPP-NPA and burned a CPP-NPA-National Democratic Front (NDF) flag.
"This is a result of our sustained operations to end the insurgency problem in Negros and we are calling on the others who are still in the underground movement to lay down their arms and return to the folds of the law," Pasaporte told the Philippine News Agency on Monday.
Their identities are temporarily withheld for their safety while they are undergoing debriefing, he added.
They are also undergoing assessment and profiling so they can be enrolled under E-CLIP.
The former rebels said they were already fed up with the false promises of the NPA and decided to leave the armed struggle due to internal conflict, lack of medical support, and leadership problems within the organization.
Pasaporte also lauded the community's participation in the government efforts to end the insurgency under the whole-of-nation approach.
The CPP-NPA is listed as a terrorist organization by the United States, European Union, the United Kingdom, Australia, Canada, New Zealand, and the Philippines.
The NDF has been formally designated as a terrorist organization by the Anti-Terrorism Council on June 23, 2021, citing it as "an integral and inseparable part" of the CPP-NPA created in April 1973. (PNA)