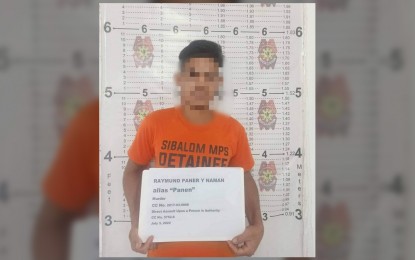 ILOILO CITY – Authorities nabbed a member of the New People's Army (NPA) wanted for murder early morning Sunday in Barangay Tig-amaga, Miagao, Iloilo.
Maj. Renato Monreal II, chief of police of the Sibalom Municipal Police Station, identified the suspect as Raymund Paner, 33, alias Panen, of Barangay Tula-tula, Sibalom, Antique.
"We have been trying to locate him since 2017 but from time to time he transferred locations probably because he knew that he had a warrant of arrest," he said.
Police said Paner reportedly killed on Dec. 11, 2013, Leonardo Donganon, the father of Barangay Tula-tula councilor Michael Donganon who attempted to pacify the two who were engaged in a heated argument.
Paner was not yet a member of the NPA at the time of the crime but sought refuge with the Squad 1, SDG Suyak Platoon, Southern Front Committee-Komiteng Rehiyon Panay when the warrant of arrest was released in 2017.
"We received information that he was hiding in Barangay Tig-amaga and was verified and validated upon verification by the intelligence community," Monreal said.
Paner has another warrant of arrest for direct assault upon a person in authority.
He is detained at the Sibalom police station and will be transferred to the Bureau of Jail Management and Penology or the Antique Rehabilitation Center this week. (PNA)