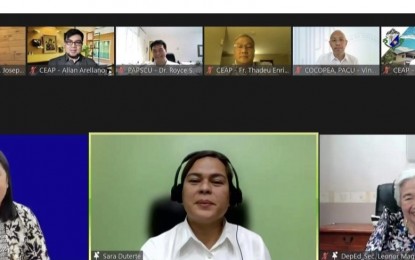 MANILA – Vice President and Education Secretary Sara Duterte-Carpio on Monday said there's an urgent need to strengthen the education sector in the Philippines.
In a virtual discussion with National Private Education Association, Duterte acknowledged the "strain on public schools" due to numerous transfers of learners from private schools amid the coronavirus (Covid-19) pandemic.
"There is an urgent need to build back and build back stronger and better. The migration of students from private to public schools has put enormous strain on our public schools," she said.
Likewise, the vice president also said her team is now carefully looking into the situation of private schools.
"I have taken notes. And would like to assure you that we will take these issues into consideration, with the hope of coming up with appropriate actions and effective solutions... I understand that many private schools across the country are suffering from losses," she added.
She, however, said she expects the sector's support for government to come up with remedial measures.
"I ask for your indulgence as I also expect your support as we study and explore the appropriate measures to resolve issues and concerns," she said.
Duterte earlier announced the opening of several satellite offices nationwide to further streamline services.
In her Facebook post, Duterte said these include Dagupan, Cebu, Tacloban, Zamboanga, Davao, and Tandag in Surigao del Sur.
Lawyer Reynold Munsayac, Duterte's spokesperson, said the OVP satellite were launched on July 1, the first day of Duterte's term as Vice President. These offices are open to the public during office hours from Monday to Friday.
Munsayac said the opening of the satellite offices is part of the vice president's "earnest efforts" to make sure the OVP is closer to the people. (PNA)