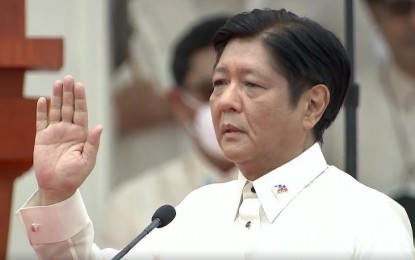 MANILA – Malacañang is waiting for President Ferdinand "Bongbong" Marcos Jr. to personally announce his take on opposition lawmakers' calls to restore the Philippines' membership in the International Criminal Court (ICC).
"Those comments, as in any comment that is in the exercise of freedom of speech are also duly noted. But we'll wait for the formal policy to be articulated by the President," Press Secretary Trixie Cruz-Angeles said in a Palace press briefing.
Opposition lawmaker Senator Risa Hontiveros said the Philippines should rejoin the ICC, stressing that "the more we are a member of communities of shared values of human rights, the better."
Detained former senator Leila de Lima also said restoring ICC membership would improve the country's image and "protect people from crimes against humanity committed by state forces."
In March 2018, former President Rodrigo Duterte ordered the Philippines' withdrawal from the Rome Statute just weeks after former ICC chief prosecutor Fatou Bensouda announced a preliminary examination was underway into the administration's controversial crackdown on illegal drugs.
The Philippines officially cut ties with the ICC on March 17, 2019, exactly a year after the Rome Statute's revocation.
Duterte repeatedly argued that the Rome Statute, which created the ICC, specified that the ICC can only prosecute such complaints if the member-nation did not have a working judicial system or the government refused to prosecute such crimes.
In September 2021, the ICC formally launched an investigation into the government's anti-narcotics campaign.
But in November of the same year, the government requested the ICC to defer its investigation because the administration was already looking into the allegations.
Previously, Marcos said he would continue the Duterte administration's drug war with the same vigor, but will focus on prevention by educating the youth about the ill-effects of drugs and improving rehabilitation centers.
In January, he said he will allow members of the ICC to go to the country, but only as tourists and not as investigators.
He said the country already has a "functioning judiciary" and is capable of conducting investigations themselves. (PNA)