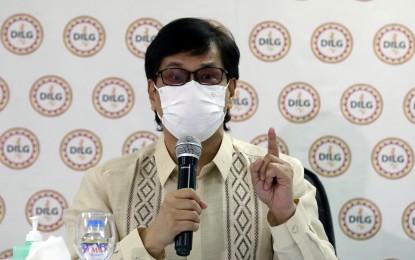 MANILA – Department of the Interior and Local Government (DILG) Secretary Benjamin "Benhur" Abalos Jr. vowed Monday to sustain the gains in the anti-illegal drugs campaign, saying he would even join in some of the operations.
Abalos said the campaign would be continued but the Marcos administration would put greater focus on building up strong cases against illegal drug suspects.
"The drug war will be pursued relentlessly in accordance with the oath I will be taking and the basis of the Constitution. That's it. I would like to mention to everyone in some of the drug raids sasama ako, sasama talaga ako rito (I will go with them) to show people and to give motivation to our police and to show them ang gagawing mga raids is in accordance with the law," Abalos said in a press conference.
Abalos also lauded his predecessor, former Interior Secretary Eduardo Año for a "fantastic job", having accomplished a lot in the past years.
"The former DILG Secretary did well in the anti-illegal drugs campaign. Itutuloy lang natin 'yun (we will continue) but we will put greater focus in building up strong cases against illegal drug suspects to ensure that no cases will be dismissed and they will be spending the rest of their lives behind bars," he said.
Abalos said they would "try our best" to end the drug problem in the next six years.
He added that every illegal drug case filed should be "airtight" to avoid these cases from being dismissed based on technicalities.
"We will try our best, we will really do our best. Siguro I will give emphasis aside from the police, 'yung sinasabi ko kanina. We will make sure na airtight ang kaso kasi maski manghuli ka na manghuli pero kung karamihan dismissed, balewala ito (We'll make sure the cases are airtight because if these are dismissed, then this is all for nothing)," he said.
In most cases, Abalos noted that investigations are "deterred" as there are no witnesses to assist in the cases.
"We will involve other concerned government agencies, and most importantly, the communities, to make sure that we have a comprehensive campaign against illegal drugs," he added.
He likewise commended Philippine National Police (PNP) Acting Chief Lt. Gen. Vicente Danao, Jr. for the effective mechanisms against illegal drugs but established that in all of society's problems, "one must go to the roots and target the main source."
"Maganda 'yung ginawa ni Gen. Danao (Gen. Danao did well), and I commend you and the PNP for the war against drugs. Aside from the law enforcement aspect, we should get to the root causes of the anti-illegal drugs problem and address all of these things in collaboration with other agencies of the government and stakeholders -- unemployment, education, family, and a host of other issues," Abalos said.
In meeting the DILG's workforce, Abalos said he would fill up gaps to improve policies in major programs.
"Hindi tayo ang pagsisilbihan, tayo ang magsisilbi sa kanilang lahat (We will be the ones served, we will be the one to serve all of them),'' Abalos said.
He also put emphasis on sustaining the DILG's programs and initiatives and vowed to work on the provision of firetrucks, prioritizing the fire stations lacking equipment under the Bureau of Fire Protection and improving jail management through the Bureau of Jail Management and Penology. (PNA)