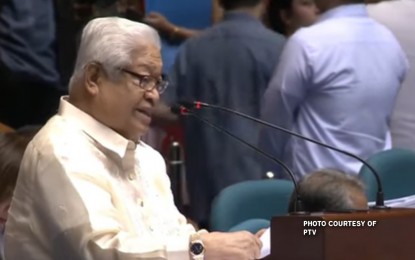 LEGAZPI CITY – Albay 1st District Rep. Edcel Lagman refiled the measure legalizing divorce in the country after his similar bill was not acted upon in the 18th Congress.
In a phone interview on Monday, Lagman said he is hopeful that "beleaguered and tormented wives can soon be liberated from irretrievably dysfunctional marriages or inordinately abusive marital relations" with House Bill No. 78, an Act Reinstituting Divorce as an Alternative Mode for the Dissolution of Marriage.
An identical divorce bill was approved by the Committee on Population and Family Relations in August 2021 but was marooned in the Committee on Appropriations due to the Covid-19 pandemic.
Lagman said the divorce bill is an apt sequel to the Reproductive Health Act, which he also authored, since the woman is the central figure in both measures.
The Philippines is the only country, aside from the Vatican, that outlaws absolute divorce.
The Catholic hierarchy grants canonical dissolution of marriage while all other Catholic countries recognize absolute divorce in varying degrees of liberality.
The bill reinstates absolute divorce because it was previously practiced by pre-Spanish Filipinos and also during the American era and Japanese occupation.
Lagman said no less than the Supreme Court has ruled in the case Te v. Te (GR No. 161793, Feb. 13, 2009), that the severance of a marriage bond is a decent interment of a long-dead marriage.
Lagman also added that "notwithstanding the adoption of the 1987 Constitution of the precepts that marriage is a social institution and the foundation of the family is inviolable, the Commissioners of the 1986 Constitutional Commission were unanimous that the Congress is not prohibited or precluded from instituting absolute divorce and dissolution of marriage under the current Charter".
He said he will file a bill mandating the teaching of tax literacy, consciousness, and responsibility in intermediate, secondary, technical-vocational, and tertiary education. (PNA)