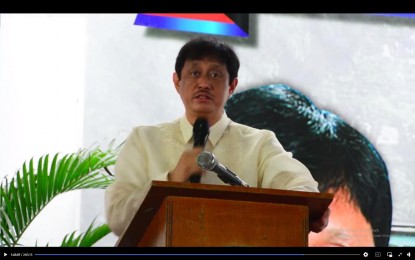 MANILA – Department of Agrarian Reform Secretary Conrado Estrella III considers the agency his second home, thus his assurance that he will treat employees like family.
He also vowed to be true to the mandate of DAR to provide social justice and give land to the landless, which were implemented by his grandfather, Conrado Estrella Sr., who likewise served as agrarian minister during the administration of the father of President Ferdinand "Bongbong" Marcos Jr.
Estrella remembers spending time at the DAR premises in Quezon City.
"Here at the Agrarian Reform [office], I feel at home and because I treat this as my home, gusto kong sabihin sa inyong lahat ng mga kasamahan ko dito (I want to tell the agrarian reform employees) that we will be one family," he said in his speech during the handover ceremony on Monday.
He said he understands that most DAR employees earn just enough and are oftentimes in need, especially in cases of medical emergencies.
He said he has sought the help of his friends from Congress and they have committed to helping the DAR.
Estrella likewise shared that a memorandum of agreement will be signed soon between DAR and the Chinese General Hospital for a 10-percent discount for employees in case they get admitted or avail of outpatient services.
He also plans to provide scholarships to employees' children in college and to employees themselves who want to obtain post-graduate studies and advance their careers.
"If before I am attending to my constituents in Pangasinan [as congressman], this time I will attend also to my constituents here at the DAR," he said.
His marching order from the President is to equal, if not surpass, the accomplishments of his late grandfather. (PNA)