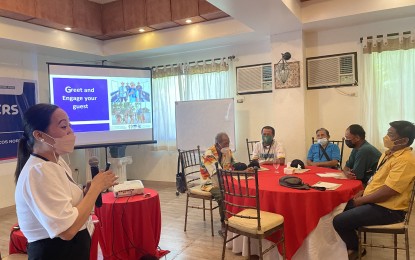 LAOAG CITY – Iconic kalesa drivers or "kutseros" here pledged to raise the bar of Filipino hospitality as they attended a two-day seminar on improving their knowledge and skills as tourism front-liners.
Held at the Java Hotel in Laoag City on July 4-5, the seminar was to capacitate "kutseros" so that the next time they are on the road with tourists, they will be ready to satisfy their needs, Evangeline Dadat, officer-in-charge of the Department of Tourism in Ilocos (Region 1) said in an interview Monday.
"This is in preparation for the so-called 'revenge tourism' as we expect more tourists to come to Ilocos and the kutseros play a significant role in the tourism transport sector," she said.
Earlier, the DOT trained 4x4 drivers at the Paoay and Laoag sand dunes with similar training on keeping the Filipino brand of hospitality to level up their services to visitors.
The participants were taught tour guiding techniques and given lectures on work values, personality development, roles and responsibilities of a tourist driver.
On the last day of the seminar, the participants will also have a mock tour around the city to boost their self-confidence and enhance their communication skills.
As a kutsero since he was 12 years old, Randy Domingo, now 48, of Barangay 62 Navotas, said the seminar is a big help to them to sustain a long-time tradition and their source of livelihood.
"Kalesa ride has been a part of our culture and tradition and I am happy that the government is doing its best to preserve this tradition by helping us to become more tourist-ready," Domingo said.
As president of the Laoag kutseros association, Domingo said their numbers have been dwindling over the years particularly when the coronavirus disease 2019 struck the country.
"We used to have 120 members but there are only a few of us now because some have sold their kalesas and horses during the pandemic," he said.
Besides, the wooden kalesa is also becoming scarce now because of the lack of kalesa makers in the city who could fix their horse-drawn carriages in case it needs some repairs.
To date, a kalesa ride is pegged at PHP20 per head. With this amount, kutseros can still earn an average take-home pay of PHP700-800 per day while sustaining the tradition of riding on it. (PNA)