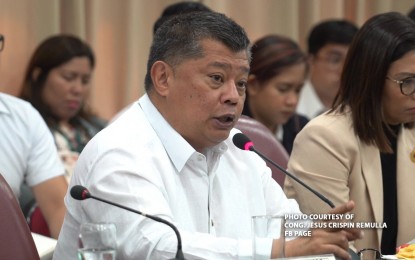 MANILA – Department of Justice (DOJ) Secretary Jesus Crispin "Boying" Remulla said he is at his point in his public service career where all he wants to do is serve the country as best as he could.
He met with DOJ workers for the first time on Monday and vowed to accomplish the agency's goals during his term.
"You can expect me to be totally committed to our case, totally committed to what the Department of Justice stands for and what we should stand for," Remulla told DOJ employees.
"I am ready to give my life for this and at 61 years old, I think I have reached the height of any career that a man can want in this country. I have no other dreams or aspirations. As I told the President, I will stay with you for the whole six years from day one to the last without thinking of myself or any other opportunity," he added.
Remulla said he would take immediate action against misguided elements at the Land Registration Authority (LRA), Bureau of Immigration, and Bureau of Corrections (BuCor).
He said he is aware of syndicates in the LRA, extortion cases at Immigration, and shenanigans at BuCor.
"This is a challenge and you here may not want this syndicate to continue and have the prospect of one day seeing our homes usurped by them if we let them," he said in Filipino, referring to illegal activities at LRA that affect the honest workers.
At the Immigration, Remulla said corruption gives the country a bad image in the international community while BuCor should protect, not harm, the society.
Remulla replaced Menardo Guevarra whom President Ferdinand "Bongbong" Marcos Jr. appointed as Solicitor General in lieu of Jose Calida.
Calida will head the Commission on Audit. (PNA)