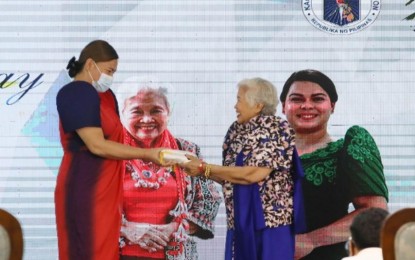 MANILA – Former Secretary Leonor Briones assured Monday that the new Department of Education (DepEd) chief, Vice President (VP) Sara Duterte-Carpio, will take the helm of the sector with the right character fit for the learners' needs.
In the thanksgiving and turnover ceremony, Briones expressed her confidence in the young Duterte, as she officially turned over the DepEd leadership.
"Secretary Sara, I have grown very fond of you... I see you as kind, gentle, and caring for children, for the young of Davao, and I believe that you will take care of the young of the Philippines, we have to start in Basic (Education), don't wait for university, don't wait for Ph.D., by that time, it will be too late," she said.
Briones said she is grateful to turn over a more "persevering" institution, contrary to what critics describe as an "embarrassing" department.
Duterte-Carpio shared her delight as Briones committed to stay as consultant of the DepEd Office of the Secretary.
"I feel a special bond with Secretary Briones although we have not worked together but, whenever we meet in activities, she was always pleasant to me, she was never condescending... and I'm really happy that she will stay on as a consultant for the office of the secretary of the Department of Education," she said.
She also lauded Briones' term efficiency, including the implementation of the Kinder-Grade 12 (K-12) Curriculum, particularly the preparation of learners for skilled competency under the Senior High School Program, salary increase of teaching and non-teaching, and the continuity of classes despite challenges brought by the Covid-19 pandemic.
Duterte, meanwhile, vowed to address pressing issues in the education sector, ensuring prioritization of the learners' welfare.
"I will also take the task with a reminder, that we shall continue to find ways to improve basic education in terms of access, equity, quality, resiliency, and governance, to produce learners who can achieve their full potential as individuals who are responsible, skilled, knowledgeable, productive, and determined to achieve their dreams for themselves and our country... We look forward to working with you as we take on the task of helping our children become our country's assets," she said. (PNA)