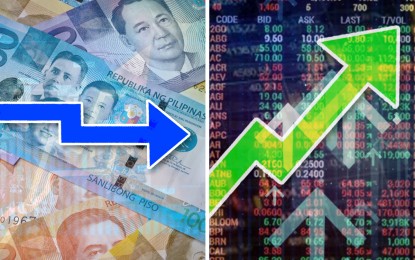 MANILA – The main stocks index started the week on a positive note amid the lack of drivers from the United States given its Independence Day holiday, while the peso moved sideways against the greenback.
The Philippine Stock Exchange index (PSEi) rose by 0.30 percent, or 18.27 points, to 6,183.62 points.
All Shares followed with a jump of 0.25 percent, or 8.34 points, to 3,348.46 points.
Half of the sectoral gauges tracked the main index namely Financials, 1.59 percent; Holding Firms, 0.80 percent; and Industrial, 0.08 percent.
On the other hand, Mining and Oil slipped by 1.29 percent; Property by 0.83 percent; and Services by 0.27 percent.
Volume was thin at 499.98 million shares amounting to PHP3.85 billion.
Decliners led advancers at 111 to 69, while 50 shares were unchanged.
Luis Limlingan, Regina Capital Development Corporation (RCDC) head of sales, said local shares "were quietly bought up" ahead of the Independence Day holiday in the US.
For the rest of the week, Limlingan said sentiments will be driven by, among others, the minutes of the Federal Open Market Committee (FOMC) meeting last June, and the jobs report for June.
"Economists expect to see a slowing in employment data, as the Fed's (Federal Reserve) tighter rates policy squeezes employers and the economy," he said.
He added new jobs generated last June are expected to have reached 250,000.
On the local front, among the major economic data releases for the week include the June 2022 inflation rate, he said.
Limlingan said prices of oil in the international market rose to USD111.74 per barrel for the Brent crude oil, up 2.5 percent; and to USD108.57 per barrel for the West Texas Intermediate, up 2.7 percent.
He attributed the price upticks to "supply outages in Libya and expected shutdowns in Norway."
He added these factors "outweighed expectations that an economic slowdown could dent demand."
Meanwhile, the local currency finished the day at 55.08 to a US dollar from its 55.09 close last Friday.
It opened the day weaker at 55.12 compared to its 54.98 start in the previous session.
It traded between 55.21 and 54.97, resulting in an average of 55.09.
Volume reached USD976.26 million, lower than the USD1.29 billion at the end of last week. (PNA)