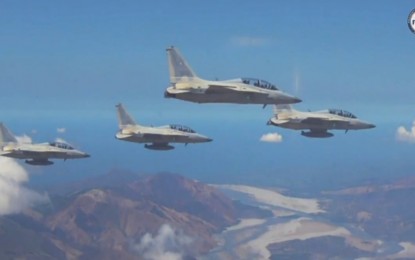 MANILA – The Philippine Air Force (PAF) will coordinate and work with the new administration to ensure that the service's modernization will continue without fail.
"We will continue to work, and help the new leadership make the pronouncement a reality, our Technical Working Group is working round the clock to be able to present viable projects and solutions to challenges for the PAF modernization," PAF spokesperson Col. Maynard Mariano said in a message to the Philippine News Agency (PNA) Tuesday.
His remark comes after President Ferdinand "Bongbong" Marcos Jr. guaranteed that the Air Force will be made "stronger, bigger, and effective" under his watch.
The President made the assurance during the celebration of the PAF's 75th founding anniversary at Clark Air Base in Mabalacat City, Pampanga last July 1.
He added that these preparations will allow senior military and defense leaders to make a decision on the PAF's modernization requirements.
"(Preparing these viable projects and solutions will) make it ready for senior AFP (Armed Forces of the Philippines)/DND (Department of National Defense) senior leadership decisions," Mariano said.
Marcos, in his anniversary message to the PAF, vowed to continue the ongoing defense initiatives to enable the PAF to keep the country "free, progressive, and secured".
"The ongoing defense modernization effort is in coordination with the basic prerequisites that would complement this administration's vision for a stronger, bigger, and effective air force, capable of defending and maintaining our sovereign state and of assisting our people in times of dire consequences and today's reality," he added.
The President also said he will seek further improvement of the aerial and surveillance capabilities of the PAF, considering that the Philippines has territorial disputes with other countries.
He vowed to equip the PAF with additional "state-of-the-art" fighter planes and arm these with more firepower. (PNA)