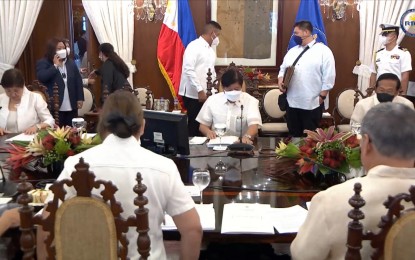 MANILA – President Ferdinand "Bongbong" Marcos Jr. on Tuesday discussed with his Cabinet the present economic situation of the country.
This, as Marcos led the first Cabinet meeting at Malacañan Palace on Tuesday morning.
The meeting was supposed to begin at around 9 a.m. but it started 15 minutes earlier than the scheduled time.
The Philippine economy was the first issue Marcos sought to tackle with the Cabinet officials, especially with his economic team which include Finance Secretary Benjamin Diokno, Socioeconomic Planning Secretary and National Economic and Development Authority Director General Arsenio Balisacan, and Bangko Sentral ng Pilipinas (BSP) governor Felipe Medalla.
In a short video clip uploaded on Radio Television Malacañang's official Facebook page, Marcos asked his economic managers to start the meeting with a presentation of the current state of the Philippine economy.
"I ask what we call the economic groups, which is the Secretary of Finance (Diokno), the BSP governor (Medalla), and the NEDA (Director General Balisacan), to give us a briefing on the general situation economically because I think we can all understand that the most important area that we will have to deal with will have to be economy," Marcos said.
Marcos said the "central policy" his administration would follow will be crafted by his economic team.
"The central policy actually that everybody else will eventually be following will be that set out by our economic managers," he said.
Vice President and Education Secretary Sara Duterte-Carpio, Executive Secretary Victor "Vic" Rodriguez, and Press Secretary Rose Beatrix "Trixie" Cruz-Angeles were among the Cabinet members who attended the meeting with Marcos at Malacañan.
Agriculture, finance, transportation and education sectors were among the key items discussed in the first Cabinet meeting, the RTVM said.
Malacañang has yet to release additional details about Marcos' first meeting with his Cabinet.
In a separate Facebook post, Social Welfare Secretary Erwin Tulfo said attendees are mandated to undergo antigen testing.
Marcos' Cabinet remains incomplete, as he has yet to appoint secretaries in some departments, including the Department of Health.
Marcos is already in the "final stage" of evaluating the candidates for vacant posts in his Cabinet, Cruz-Angeles said in a Palace press briefing on Monday.
Proposed retrenchment opposed
Marcos also rejected the proposed retrenchment of some government personnel to collect more funds to sustain the efforts to hasten the country's economic recovery from the prevailing coronavirus disease 2019 (Covid-19) pandemic, Tulfo said in another Facebook post.
"We don't want anyone out of job at this point," Marcos, as quoted by Tulfo, said.
In a text message, Solicitor General Menardo Guevarra said controlling inflation, ensuring food security, supporting the transportation sector, and resuming the face-to-face classes were among the issues raised during the four-hour Cabinet meeting.
The first Cabinet meeting, Guevarra said, is "very productive" as Marcos handled it "extremely well."
"He (Marcos) is knowledgeable, organized, and very sharp," he said. "Other areas of concern will be discussed in subsequent meetings of the Cabinet." (PNA)