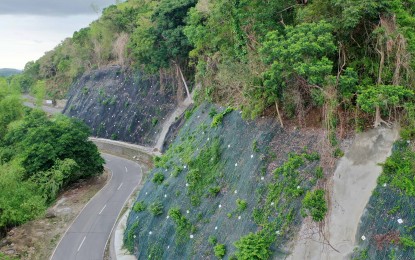 SAN FERNANDO CITY, La Union – The 154-linear meter slope protection project in Barangay Bacsil here has been benefiting residents and motorists as it prevents landslides or soil erosion.
In an interview on Tuesday, Department of Public Works and Highways La Union 1st district engineer Jose Ginete Jr. said the project protects and maintains the stability of the slopes, mitigating the risks of soil erosion along the San Fernando-Bagulin road section.
"The installed erosion control mats were anchored with ground anchor nails and high-tensile wire mesh were used to keep rock masses in place and prevent debris from falling," he said.
He added it was constructed in the landslide-prone area from February 11 to May 16 this year.
Ginete said the project was implemented with a total cost of PHP49 million funded under the General Appropriations Act of 2022.
"The use of this eco-friendly and convenient slope protection technique will ensure the safety of road users and motorists who traverse slide-prone areas in Barangay Bacsil against geological disasters," he said. (PNA)