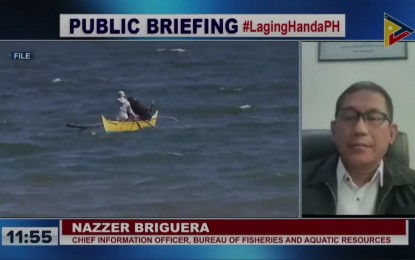 MANILA – Five water areas have tested positive for paralytic shellfish poison or red tide, the Bureau of Fisheries and Aquatic Resources (BFAR) said Tuesday.
At the Laging Handa public briefing, Nazzer Briguera, BFAR Chief Information Officer, warned against selling, buying, and eating shellfish harvested from the coastal waters of Milagros, Masbate; coastal waters in Dauis, Tagbilaran City, Bohol; Dumanquillas bay, Zamboanga del Sur; Litalit bay in San Benito, Surigao del Norte; and Lianga Bay, Surigao del Sur.
"All kinds of shellfish including mussels, oysters, and even tiny shrimps from the aforementioned waters are not safe for eating, our message is, don't buy, don't sell, don't carry any type of shellfish and small shrimps from those areas," he said in Filipino.
Briguera, however, noted that the residents may still eat round scads, squid, shrimp, and crabs.
The BFAR, meanwhile, assured the public it is continuing efforts to ensure an ample supply of fish and reach fish sufficiency in the Philippines, by increasing production.
Briguera said they are distributing bigger boats to local fisherfolk, to help them increase their catch.
With a looming food crisis, Briguera urged young learners to share their part in the country's push for food sustainability by availing of their scholarships.
He said qualified scholars may enjoy free tuition, book allowance, and thesis writing support.
Interested applicants are advised to check their social media accounts for the scholarship update. (PNA)