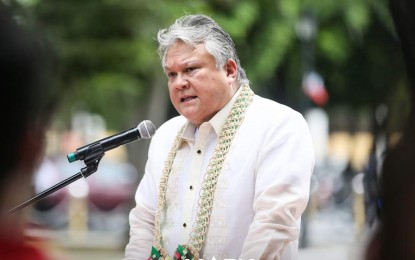 LINGAYEN, Pangasinan – Second District Representative Mark Cojuangco will work on constructing 6.1 meters width of paved road with 8.1 meters width of the right of way barangay roads during his term.
"I made it clear to the second district engineering office of the Department of Public Works and Highways (DPWH). We will not compromise on this. If they would not agree on the width, we would skip them. We will set examples of wide, straight barangay roads, and wide bridges," he said.
Cojuangco said he would show political will on the matter.
"We would skip those who would not adhere to this because, at the end of the day, I believe that the purpose of a politician, of a congressman, is not to be here forever. It is to set an example of what is the right thing to do even if it is politically challenging," he said.
Cojuangco said he also asked the DPWH district engineer to make an inventory of all the trees violating right of way on national roads in the second district of Pangasinan.
"I told her to apply to the Department of Environment and Natural Resources that we should cut all those trees as we did in the MacArthur Highway in the fifth district of Pangasinan. Over 2,000 trees were cut which gave way to now the nicest highway in the province of Pangasinan, in my opinion," he said.
Cojuangco used to be the representative in the fifth district of Pangasinan.
"I will always look for funds for trees right of place outside the road right of way. Let's set a new standard," he added.
Cojuangco said he had spoken with President Ferdinand Marcos Jr. and presented some of his plans.
These include the conversion of the 300-hectare eco-tourism zone at Barangay Estanza, Lingayen town.
"I asked the President BBM that if possible, he would amend the proclamation of the area from eco-tourism zone to an economic zone instead," he said. (PNA)