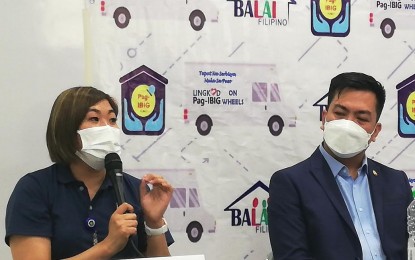 BAGUIO CITY – Officials of the Pag-IBIG Fund in the Ilocos Region have expressed hope that their more than 400,000 members in the region and neighboring provinces will avail of the agency's low-interest emergency loans which are easy to avail of and get released in just two days.
Mervin Pereda, area head for Pag-IBIG-Ilocos Region, said that of the more than 400,000 members in the "Ilocos areas" that cover Baguio City, Benguet, Mountain Province, Abra, Ilocos Sur, Ilocos Norte, La Union, and Pangasinan, only about 19,000 are availing of loans.
In Baguio, Benguet, and Mountain Province alone, out of the 130,000 members in the three provinces, only about 6,000 are availing of the loan packages.
"We want the people to know that if they are active members, Pag-IBIG is a place to go to for fund needs," said Pereda at a press conference on Tuesday.
For his part, Philip Raymund Salem, head of the marketing and sales division of the Ilocos Region cluster, said: "Napakadaling maka-avail kaya sana i-avail nila (it is easy to avail so we hope they would avail of the Pag-IBIG emergency loan package)."
Using the loyalty rewards card plus, a member can apply for a loan online.
A member's savings come from the contribution paid by the member, the share of the contribution of the employer, and the dividends earned by the member.
He, however, clarified that the emergency loan charges 47 centavos per PHP1,000 of the loan per day and can be paid as soon as the person's cash becomes available.
He said that when people need money, the first thing they think of is borrowing from another person, using their credit cards, pawning jewelry, or even asking from a loan shark.
"They must remember that they have money saved in Pag-IBIG and they can make use of that whenever they need it," Salem said.
"Darating naman agad ang pambayad, nadelay lang kaya pwede kang mag-loan sa Pag-IBIG at pagdating ng pera mo, bayaran mo kaagad. Maliit lang ang interest, walang advance interest na dine-deduct at walang filing fee or service charge (Your cash just got delayed so you can file a loan with Pagibig and as soon as you receive your money, you can pay the loan back without so much deduction or charges or an advance interest)," Salem said.
"Maganda kung hindi naglo-loan ang members dahil hindi nila kailangan ng pera kasi ibig sabihin nun ay stable and financial condition nila pero kung naglo-loan din lang sila, bakit hindi pa sa Pag-IBIG na pera din naman nila at makakatulong pa sila na palaguin ang pera na pag-aari nila (It is good if members do not avail of loans because they have a good financial condition but if they are availing of loans elsewhere, why not with Pagibig which money is also theirs so that they can help raise money for their savings)," he added.
Pereda said the money of the Pag-IBIG is owned by the members through their savings and the management is only allowed to use the fund for the multi-purpose and housing loan of the members.
He said the money is not invested anywhere else so it is the members who use them by availing of loans that contribute to the income of the fund and is returned to the members by way of dividends.
"Lalaki ang Pag-IBIG fund kung tutulong ang lahat ng members (The fund will grow if all members will help) so we encourage each member to use it," Pereda said.
The officers said that aside from an over-the-counter transaction, Pag-IBIG is now online and has the "Pag-IBIG Lingkod on Wheels" that goes to different locations to bring the services closer to the community and attract non-members to register. (PNA)