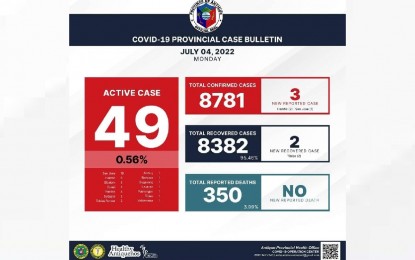 SAN JOSE DE BUENAVISTA, Antique – Antique's Integrated Provincial Health Office (IPHO) on Tuesday reported rising cases of the coronavirus disease 2019 (Covid-19) in the province "because the people no longer are conscious of the minimum health protocol."
IPHO Information Officer Irene Dulduco said in an interview that as of July 4, a total of 49 cases were logged in 14 of the 18 towns in the province.
Movement restriction was relaxed when the province was placed under Alert Level 2 beginning in April and people have become complacent, not following minimum public health protocols since the province recorded zero Covid-19 cases.
Antique had no Covid-19 case on May 31 and June 1 and 2, and had a lone case on June 3.
Thereafter, the number of Covid-19 cases continued to increase, reaching the first double-digit with 12 on June 17.
The 49 cases as of July 4 are in the municipalities of San Jose de Buenavista with 19; Hamtic, six; Sibalom, five; Culasi and Pandan, with four each; Sebaste and Tobias Fornier with two each; and one each in Anini-y, Barbaza, Bugasong, Laua-an, Patnongon, Tibiao, and Valderrama.
Meanwhile, Dulduco urged those who have yet to avail of the Covid-19 vaccination to get inoculated for their protection.
"We encourage also those who are already qualified to avail of the booster shots to come to our vaccination sites," she said.
Dulduco said there are vaccination sites in the 18 municipalities.
Antique, as of July 4, has 326,205 fully vaccinated individuals, or 64.92 percent of those eligible for vaccination, while 37,926 or 7.55 percent have received booster doses. (PNA)