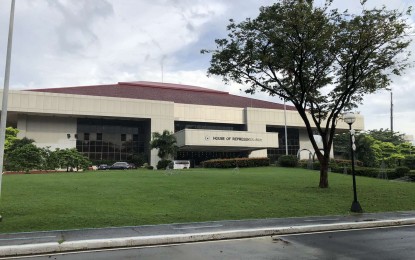 MANILA – Some lawmakers at the House of Representatives proposed a PHP1.5 trillion economic stimulus measure that would help create millions of sustainable jobs and accelerate the Philippines' recovery from the lingering coronavirus disease (Covid-19) pandemic and the ongoing Russia-Ukraine conflict.
According to a statement on Tuesday, Camarines Sur Reps. Luis Raymund Villafuerte, Tsuyoshi Anthony Horibata, and Miguel Luis Villafuerte, and Bicol Saro Party-list Rep. Nicolas Enciso VIII filed House Bill No. 271 or the proposed National Economic Stimulus and Recovery Act of 2022, in support of President Ferdinand Marcos's "comprehensive all-inclusive plan for economic transformation".
Of the proposed PHP1.5-trillion appropriation bill, PHP500 billion shall be released in the first year of this measure's approval, another PHP500 billion in the second year, and PHP500 billion more in the third and final year.
Villafuerte said the Bayan Bangon Muli (BBM) bill stimulus package would allow Marcos to harness the resources available during the closing period of 2022 and pass measures that are needed for the pandemic, "hopefully" toward the endemic stage of this Covid-19.
"The BBM bill is seen as the successor of the Bayanihan laws passed to mitigate the negative effects of the Covid-19 lockdowns on the economy," he said.
Incoming Speaker Ferdinand Martin Romualdez earlier said the priority legislation of the 19th Congress will be a Bayan Bangon Muli bill patterned after the two Bayanihan laws that were passed in 2020 in response to the pandemic.
Villafuerte said the proposed PHP1.5-trillion stimulus package would help the new administration sustain the unmatched high spending on infrastructure development initiated by former President Rodrigo Duterte.
"But this time, such investments will be focused on building and improving facilities for HEAL IT, which stands for Health, Education, Agriculture, Livelihood, Information Technology (IT) and Tourism," he said.
Under HB 271, government infrastructure spending shall be primarily geared towards maximizing the direct and indirect creation and sustaining of jobs, particularly in the countryside.
"Anchored on the premise that the poor are provided employment and income-earning opportunities, this measure will prioritize the funding of projects that target infrastructure building down to the barangay level," the lawmakers said in the bill's explanatory note.
HB 271 seeks the creation of a Special Fund, to be known as the National Economic Stimulus and Recovery Fund, which shall be disbursed primarily for the implementation of infrastructure projects across the six priority areas under HEAL IT. (PNA)