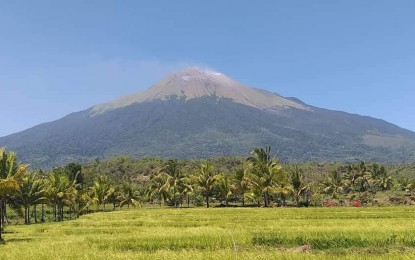 BACOLOD CITY – The Negros Occidental Command Center is closely monitoring the activity of Mt. Kanlaon after the Philippine Institute of Volcanology and Seismology (Phivolcs) raised the possibility of phreatic eruptions on Monday.
Zeaphard Caelian, head of the Provincial Disaster Management Program Division, said the active volcano's seismicity has decreased to only 17 volcanic quakes as of 8 a.m. on Tuesday.
A day earlier, some 21 volcanic quakes were recorded, while from 5 a.m. on June 30 to 2 p.m. on July 3, at least 41 volcanic tremors were monitored caused by movements or eruptions of magma.
"Mt. Kanlaon is still at Alert Level 1 or low-level unrest. Although there is a possibility of a phreatic eruption because of the hydrothermal activity, with the presence of water and magma," Caelian added.
However, the volcano's sulfur dioxide gas emission has not increased, remaining at 151 tonnes per day since May 1, 2022.
In a radio interview, Caelian reminded the Negrenses to avoid entry to the four-kilometer permanent danger zone.
He said at this point, there is no need for a preemptive evacuation since based on the province's contingency and response plan, residents need to be evacuated only when an Alert Level 3 is hoisted.
"The Phivolcs is not yet increasing the alert level. They are just saying there is a possibility of phreatic eruption or emission of steam and hot rocks. Again, we are closely monitoring its activity," he added.
Caelian said the provincial government held evacuation drills in La Castellana town and La Carlota City, which have communities at the foot of the volcano.
Other local government units with villages near Mt. Kanlaon include the cities of San Carlos and Bago as well as the towns of Moises Padilla and Murcia.
Of the 41 volcanic earthquakes monitored earlier, seven were very shallow tornillo signals that could be associated with gas movement along with the fractures within the upper volcanic slopes.
Tornillos are low-frequency earthquakes that produce a screw-like pattern on the seismograph.
On Monday, Phivolcs Director Renato Solidum Jr. said the increase in seismicity is relative to the previous observations, especially the record of tornillo-type earthquake events. (PNA)