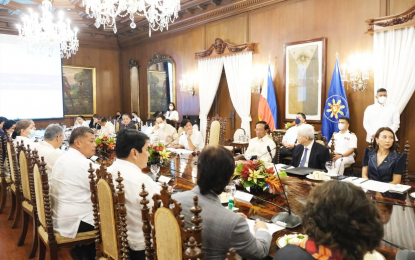 MANILA – President Ferdinand "Bongbong" Marcos Jr. on Tuesday said he plans to hold two Cabinet meetings a week to give his secretaries "a clear picture" of ways to address the country's main problems.
"I am planning, perhaps for the next two or three weeks to accelerate the number of Cabinet meetings. Baka two a week muna (Maybe we'll start with two Cabinet meetings a week)," he said in his first press conference with reporters at Malacañang since his inauguration on June 30.
Marcos said he wants his Cabinet members to fully understand the extent of problems and work on a timetable to provide immediate solutions to them.
"Hangga't maliwanag na maliwanag na (Until it is very clear). It's important to me that the entire Cabinet understands what it is we're trying to do, how we're going to do it, what the timetable is, and how it all fits together," he added.
He said he also wanted to ensure that Cabinet secretaries had respective plans in mind and were also "coordinated" with each other.
Earlier in the day, Marcos held his first Cabinet meeting where both "immediate concerns" and "long-term concerns" were discussed.
"As we attend to immediate concerns, we are also trying to streamline the government so its function is better, its function is much more efficient, and easier for the public as they have to do business, whatever business they have with the government that it is easier, simpler, safer, and more secured to do," Marcos said.
In a short video clip uploaded on Radio Television Malacañang's official Facebook page, Marcos asked his economic managers to start the meeting with a presentation of the current state of the Philippine economy.
"I ask what we call the economic groups, which is the Secretary of Finance, the BSP (Bangko Sentral ng Pilipinas) governor, and the NEDA, to give us a briefing on the general situation economically because I think we can all understand that the most important area that we will have to deal with will have to be economy," Marcos said.
Solicitor General Menardo Guevarra, in a text message, said controlling inflation, ensuring food security, supporting the transportation sector, and resuming the face-to-face classes were among the issues raised during the four-hour Cabinet meeting.
He described the first Cabinet meeting as "very productive" as Marcos handled it "extremely well."
"He (Marcos) is knowledgeable, organized, and very sharp…Other areas of concern will be discussed in subsequent meetings of the Cabinet," Guevarra said. (PNA)