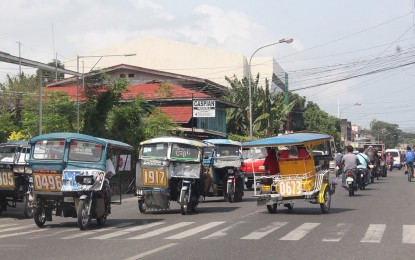 MANILA – President Ferdinand "Bongbong" Marcos Jr. on Tuesday announced plans to expand the coverage of the government's fuel subsidy program to include tricycle drivers.
In his first press briefing since he was sworn in as president, Marcos said tricycle drivers have been left out of the program that assists the transport sector amid the prevailing Covid-19 pandemic and the continuous oil price hikes.
"We just discussed that we are going to try not only to continue the fuel subsidy for the transport sector but to expand it to include the tricycles which up to now, have not been included," he said.
Marcos said the funding for this proposed expanded fuel subsidy program was discussed during his first Cabinet meeting earlier in the day.
He did not elaborate, but assured that there was still enough funding from the current 2022 budget to last this year.
"We talked about the funding, where it can come from, and how we are going to manage the funding for the additional fuel subsidies. We have enough budget I think to last for most of this year and a little bit beyond but we have to find that money if we're going to continue," he added.
Late last month, the Department of the Interior and Local Government (DILG) announced that over 600,000 tricycle drivers nationwide will be receiving fuel subsidy.
The Land Transportation Franchising and Regulatory Board (LTFRB) started releasing fuel subsidy for other public transport operators and drivers in March. However, the board was waiting for the beneficiary list of tricycle and delivery drivers from the DILG.
Libreng Sakay
Meanwhile, Marcos said that the government will also provide "Libreng Sakay" (free rides) for students taking the Light Rail Transit Line 2 (LRT-2) to give them a faster ride to their schools in Quezon City and in the University Belt in Manila.
Marcos earlier approved free rides for the Epifanio de los Santos Avenue (Edsa) Bus Carousel until December 2022, from the original expiry date of June 30.
"Libreng Sakay continues as is…But what we are going to do is we are going to do a program for the students. Because if they come in, we will fully subsidize first their pamasahe (fare)," he said. "Students will ride for free on LRT-2 which is going to the University Belt."
Last week, the Department of Transportation (DOTr) said free rides for students would be implemented from August to November or during the first quarter of the school year 2022 to 2023.
However, free train rides for the general public would be discontinued due to fiscal considerations. (PNA)