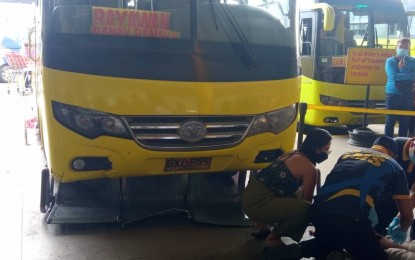 DUMAGUETE CITY – Three minors were injured and rushed to a hospital here after a Ceres bus rammed into a group of people seated at the passenger terminal in Barangay Calindagan on Tuesday afternoon.
A report from the Dumaguete City Police Station identified the victims as Haiden B. Silab, 14, a Grade 8 student; Zim Tyler B. Silab, 12, a Grade 6 pupil; and John Caleb Silab, 7; all residents of Minglanilla, Cebu.
Initial investigation showed that the three were seated along with other people at the Ceres bus terminal around 12:30 p.m. when the bus, driven by Joebie J. Lajot, 43, of Sta. Catalina, Negros Oriental, suddenly accelerated and rammed into them.
The driver was arrested and brought to the police station for further investigation and filing of proper charges, said city police chief, Lt. Col. Joeson Parallag.
Rescuers responded to the scene and pulled out the victims from under the bus.
A closed circuit television (CCTV) camera footage circulating on social media captured the entire incident.
Parallag told the Philippine News Agency he has directed his investigators to conduct a thorough probe into the incident.
The driver told investigators that he drove the passenger bus from the "ready line" to the parking bay, engaging it to second gear slowly while moving forward and then stepping on the brake.
He further said that the brake worked the first time around but already malfunctioned when he stepped on it again. (PNA)