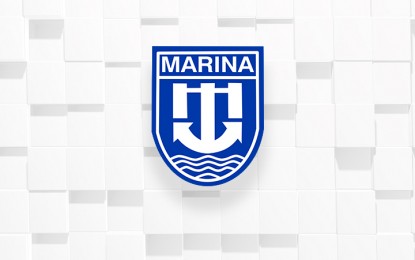 MANILA – The Maritime Industry Authority (MARINA) on Tuesday said its former chief Robert Empedrad did not make "illegal" appointments of officers-in-charge (OIC) before he vacated his post.
In a statement, MARINA said Empedrad "quietly" vacated his position on Friday after receiving a copy of the Office of the President (OP) Memorandum Circular No. 1 (2022) that declared presidential appointees and other non-permanent positions in the government vacant.
"Before Vice Admiral Empedrad left his post, he did not sign nor issue any document designating Officers-in-Charge to assume positions declared as vacant as a result of the said Presidential issuance," it said.
It noted that the opinion of one or more members of the Alliance of Marina Employees (AME) "does not necessarily reflect the position of the Alliance itself on the issue."
"Lastly, we would like to clarify that all employees of the Marina are members of the AME," it said.
On Monday, reports showed that members of the AME criticized the alleged "illegal appointments" of OICs by Empedrad.
These alleged appointees included former deputy administrator for planning Sonia Malaluan as OIC administrator of MARINA, former director for shipyard regulation service Ramon Hernandez as OIC deputy administrator for operations, Arsenio Lingad as OIC deputy administrator for planning, division chiefs Harold Tarun as OIC executive director and Ronnie Gernato as OIC deputy executive director.
On July 1, the OP released Memorandum Circular No. 1 (2022) that ordered the vacancy of all co-terminus presidential appointees, appointees in positions created in excess of "authorized staffing pattern," all non-Career Executive Service (CES) officials occupying CES positions, contractual, and casual employees in the government. (PNA)