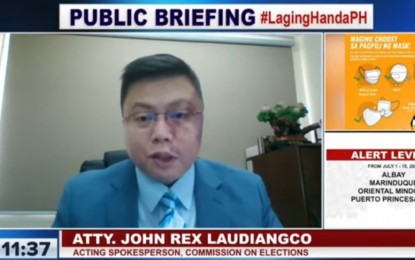 MANILA – Preparations for the Barangay and Sangguniang Kabataan elections (BSKE) will continue in the absence of a law postponing it, an official said on Tuesday.
In a Laging Handa briefing, Commission on Elections (Comelec) acting spokesperson John Rex Laudiangco said they have started preparations for the polls which include coordination with the National Printing Office and the procurement of ballots, among other election paraphernalia.
"Immediately after the May 9 Elections, after we were able to proclaim, we immediately drafted the implementing resolutions for the Barangay and SK Elections," he said.
He said their preparations such as procurement of election materials will not be put to waste, in case a law postponing the polls has been enacted.
"In case the date of the election is moved in the event of (passage) a republic act, all the supplies and papers that we procured and printed at that time can be used. But as long as there is no new republic act and the existing one is our previous republic act, our Barangay and SK elections will actually be on December 5, 2022," he said, adding that this measure is up to Congress and the executive branch.
Laudiangco said the December 5 village and youth polls will be manual voting.
"The only difference between the automated national and local elections and BSKE is the method. Practically, the personnel involved, the thing that will be used are almost the same. The only difference is the machine and ballot system. Because barangay elections are manual voting. We will write the names of the candidates," he added. (PNA)