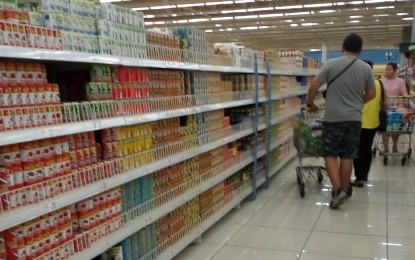 MANILA – President Ferdinand "Bongbong" Marcos Jr. on Tuesday said the country's rising inflation warrants careful handling and close monitoring.
Marcos made this remark after the Philippine Statistics Authority (PSA) announced that Philippine inflation climbed to a three-year high at 6.1 percent in June from 5.4 percent in May and 3.7 percent a year ago amid higher food and transport costs.
"We are having to be careful because essentially our economic policy right now monetary --- our monetary policy right now is essentially to use interest rates to hold, to take control of the inflation rate," he said in his first press briefing since being sworn in as president on June 30.
He said the government is not looking at specific exchange rates.
Earlier, Bangko Sentral ng Pilipinas (BSP) Governor Felipe Medalla said the central bank may consider bigger interest rate hikes in August to tame inflation and support the peso.
He said they would consider gradually increasing policy rates more than the planned 25 basis points hike.
Marcos said inflation is driven by the increase in commodity prices which is "beyond our control."
"Much of our inflation is actually imported inflation. It is imported because it is the inflation on the products that have suffered inflation that we import," he said.
Inflation is the rate of increase in the prices of basic goods over a period of time.
It is usually happen when the supply of products or services can't keep up with demand.
Increase in rice, corn production
As part of efforts to lower the prices of food, Marcos said the government plans to boost the production of staples–corn and rice.
"We will do it in the Department of Agriculture to boost production of rice and corn in the coming two quarters hanggang Pasko (until Christmas), until after Christmas," Marcos, who is also concurrent Secretary of the Department of Agriculture, said.
He said this is necessary as the government prefers to "import as little as possible".
"If we are able to increase production sufficiently…It's not really an import substitution measure, it is a strategic food supply measure," he added.
Marcos reiterated the need to prioritize the agriculture sector to address the looming food crisis in the country.
"That is why I made agriculture the highest priority of everything that we are doing. Because you cannot build a strong economy unless you have a foundation of a robust agriculture sector which assures food supply even in emergencies," he said. (PNA)