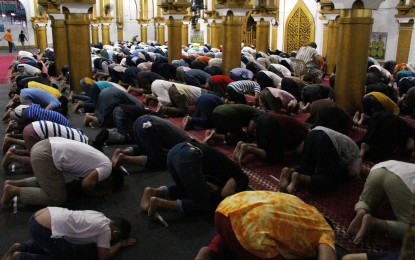 MANILA – President Ferdinand "Bongbong" Marcos Jr. has declared July 9 as a regular holiday nationwide in observance of Eid'l Adha or the Feast of Sacrifice.
Marcos on Tuesday signed Proclamation No. 2, which declares Eid'l Adha a regular holiday to allow Muslim Filipinos to celebrate the occasion "subject to the public health measures of the government."
The National Commission on Muslim Filipinos earlier recommended that July 9 be declared as a national holiday in observance of Eid'l Adha.
The Office of the Press Secretary released a copy of the presidential proclamation on Wednesday.
Republic Act 9849 states that Eid'l Adha, one of the two major Islamic feasts along with Eid'l Fitr, shall be celebrated as regular holiday.
Under RA 9849, Eid'l Adha is declared a regular holiday to allow Muslims to "pay homage to Abraham's supreme act of sacrifice and signifies mankind's obedience to God."
Muslim Filipinos comprise about 6 percent of the Philippines' total population.
Eid'l Adha is the second of two Muslim holidays celebrated by Muslims around the world and is considered holier than Eid'l Fitr.
It commemorates Abraham's willingness to sacrifice his son as an act of obedience to God's command.
Eid'l Adha is celebrated on the 10th day of the last month of the Islamic calendar.
It also marks the end of Hajj pilgrimage to Mecca, the fifth Pillar of Islam.
Eid'l Adha will be celebrated amid the prevailing coronavirus disease 2019 (Covid-19) pandemic. (PNA)