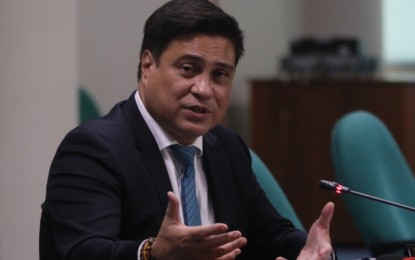 MANILA – Presumptive Senate President Juan Miguel Zubiri revealed on Wednesday that the Senate Committee on Accountability of Public Officers and Investigations would be chaired by Senator Francis Tolentino.
This, after returning Senator Alan Peter Cayetano expressed his interest to acquire the chairmanship of the panel, more commonly known as the Senate Blue Ribbon Committee (SBRC), saying he will only be willing to join the Senate majority if he gets the post.
Zubiri said that the Senate majority had already offered the position to Tolentino from the very beginning and the former happily accepted it.
"Although with a little bit of a hesitation kasi madaming trabaho yan (because it has a lot of jobs). But we committed to him our support and he already accepted it. That's already a done issue," Zubiri told the Senate reporters.
He also emphasized that it is the majority bloc that wants Tolentino to head the SBRC, which is tasked to investigate alleged wrongdoings of the government, its officials, and its attached agencies.
"That's what it is. Let's be practical about it. Dapat maaga pa lang, yung (It should be early, the) assignment of positions. It's not about really what you want. It's about what the body wants. All selected chairmen would be elected on the floor," Zubiri added, saying that even if he assigns a senator to chair a committee and the group would not permit it, it will still not push through.
However, Zubiri said he is still trying to appeal to Senator Cayetano to join the majority.
"Pag-uusapan pa namin yun. Ang alam ko apat pa ang (We will still talk about it. What I know is there are still four) available [committees]. Ethics is one. It should be no problem giving it to Senator Cayetano. Why not?" he said.
Zubiri is hoping to meet with Cayetano and his sister, Senator Pia Cayetano, this week to finalize the discussions.
"I have a very few more committees reserved for them like Government Corporations. We also have good chairmanships still in store for them. Of course, Pia will definitely retain hers, whether she likes it or not, ibibigay talaga namin sa kanya yung kanyang (we will really give her the) Sustainable Development Goals kasi kanya talaga yan eh (because that's really for her). It is very fit for Senator Cayetano and we will get her other committees that she will be happy to be a chairperson of. But yet I cannot confirm until we finalize the talks with the Cayetano siblings," he added.
Zubiri also shared that the Senate majority bloc did a fruitful meeting on Tuesday at the Manila Polo Club where they discussed committee chairmanships, vice-chairmanships, and who will sit in the Commission on Appointments and Senate Electoral Tribunal.
"We all came out very happy. It was good bonding, good fellowship. I think it's going to be, in the near future, a very good, progressive, and productive Senate," Zubiri said.
Meanwhile, he also revealed that Senator Imee Marcos is set to chair the Senate Committees on Foreign Relations, Electoral Reform, Social Justice, and Cooperatives.
"Masipag naman siya (She is hardworking) and you know, I thank her dahil willing po siyang maghawak nitong apat na (because she is willing to hold these four) committees," Zubiri said.
The presumptive Senate President of the 19th Congress is set to host another fellowship dinner with both the super-majority blocs by the end of July. (PNA)