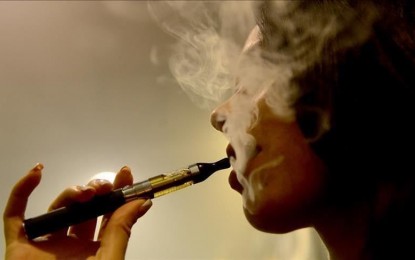 MANILA – The fate of the proposed Vaporized Nicotine and Non-Nicotine Products Regulation Act, also known as the Vape Regulation Bill is still uncertain, Malacañang said on Wednesday.
In a Palace press briefing, Press Secretary Beatrix Rose "Trixie" Cruz-Angeles said there is no indication that President Ferdinand "Bongbong" Marcos Jr. would either sign the Vape Bill or let it lapse into law.
"So, there has been no indication. The President has not commented on these bills right now," Cruz-Angeles said, when asked if Marcos has plan to sign the Vape Bill into law.
Cruz-Angeles, however, acknowledged that a bill might lapse into law, in the event that the President fails to act on it.
"The President has not indicated either way. So, when you say that there are bills pending before the President, as you know, if no action is made, then it lapses into law," she said.
The Vape Bill was ratified by the Senate and the House of Representatives on Jan. 26, 2022.
If the President does not act on a proposed law submitted by Congress, it will lapse into law after 30 days of receipt, according to the Official Gazette.
The Department of Health (DOH) and other health experts have been calling for the veto of the bill because of its provisions that contradict public health goals and international standards.
The Vape Bill regulates the importation, manufacture, sale, packaging, distribution, use and communication of vaporized nicotine and non-nicotine products, as well as novel tobacco products.
Under the measure, the Department of Trade and Industry is tasked to consult with the Food and Drug Administration in setting technical standards for the safety, consistency, and quality of vape products.
The bill mandates the DOH to prescribe guidelines on the implementation of smoking and vaping restriction awareness campaigns.
It also provides protection to minors from accessing vape products by setting the minimum allowable age for the purchase, sale, and use of such products to 18 years old. (PNA)