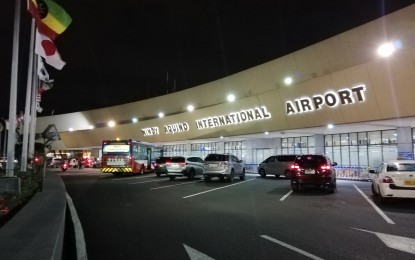 MANILA – The bill proposing to rename the Ninoy Aquino International Airport (NAIA) to Ferdinand E. Marcos International Airport is not a bill drafted by Malacañang, a Palace official said Wednesday.
Press Secretary Trixie Cruz-Angeles made this remark after Negros Oriental Rep. Arnolfo Teves Jr. filed a bill seeking to rename the NAIA after the former president and father of President Ferdinand "Bongbong" Marcos Jr.
"Malacañang has no comment yet on this one. It's just been filed. After all, wala pang (there has not been a) first reading. So, any reaction would be premature if any is even warranted at this time," Cruz-Angeles said in a Palace press briefing.
She said the Palace is not in a position to determine if the measure may be considered timely.
"This is not a bill filed by Malacañang so it's not our place to indicate whether it is timely or not. It was the congressman who filed it, so no comment for right now. Particularly, it's very early stages. It's just been filed," she added.
On June 30, Teves filed House Bill (HB) No. 610 known as "An (Act) Renaming the Ninoy Aquino International Airport to Ferdinand E. Marcos International Airport."
Teves said it is only right to name the country's main gateway to Marcos Sr. because it was constructed during his time.
"It is more appropriate to rename it to the person who has contributed to the idea and execution of the said noble project. This project was done during the time of the presidency of Ferdinand Marcos Sr.," the bill's explanatory note read.
The late Marcos Sr. served as president from 1965 to 1986.
Republic Act 6639, which was enacted into law in 1987, renamed the Manila International Airport to NAIA.
The current name of NAIA was in honor of former senator Benigno "Ninoy" Aquino, who was killed at the tarmac of the then-Manila International Airport on Aug. 21, 1983.
This is not the first time lawmakers broached the idea of renaming NAIA.
In June 2020, former deputy speaker and Davao First District Representative Paolo "Polong" Duterte and two lawmakers filed a bill seeking to rename NAIA to "Paliparang Pandaigdig ng Pilipinas."
Paolo said the name "bears no color, no political agenda."
Last April, Duterte Youth party-list Rep. Ducielle Marie Cardema also filed a bill which calls for the renaming of the NAIA back to Manila International Airport. (PNA)