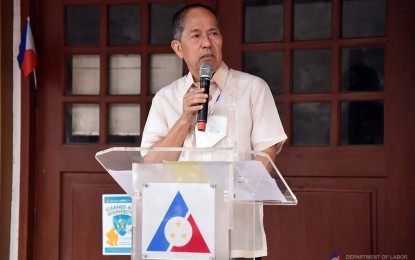 MANILA – The Department of Labor and Employment (DOLE) said another round of wage increases is only possible if there is a supervening event that will warrant it.
"There must be a supervening event that will justify the approval of the wage hike. So they have to argue on that," Labor Secretary Bienvenido Laguesma said at the Kapihan sa Manila Bay forum on Wednesday.
According to the National Wages and Productivity Commission (NWPC), regional wage boards can issue a wage order only once in a given year as a general rule.
Within the 12-month period from the effectivity of the wage order, no petition for a wage hike may be entertained, except when there is a supervening condition, such as an extraordinary increase in prices of petroleum products and basic goods and services.
The existence of the supervening condition is to be determined by the regional wage boards and confirmed by the NWPC.
This comes as consumers and minimum wage earners continue to bear the brunt of rising commodity prices, with the country's inflation soaring to a three-year high of 6.1 percent in June.
Earlier, the Regional Tripartite Wages and Productivity Boards (RTWPB) in the National Capital Region (NCR) granted a PHP33 increase for minimum wage earners in the region.
Based on the RTWPB-NCR's Wage Order No. NCR-23 issued on May 13, 2022, workers will receive an additional PHP33 from the current PHP537.
With the newly-approved salary adjustment, NCR workers are now getting PHP570 per day.
Other wage boards in all regions in the country have also granted an increase in the salaries of private-sector workers in their respective areas.
At the same time, he said workers shared their grievances, requests, and suggestions during earlier consultations with the different labor groups.
"The bottom line revolves around three issues. related to job security, income and benefits, and the prices of basic goods and commodities," he said.
Meanwhile, Laguesma is set to meet with employer groups this week. (PNA)