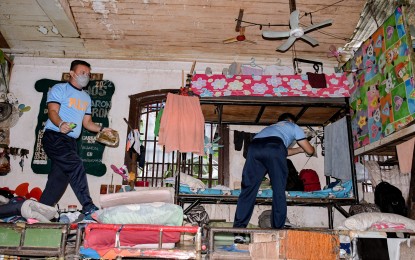 DUMAGUETE CITY – Operatives from the Philippine National Police (PNP) and the Philippine Drug Enforcement Agency (PDEA) on Wednesday confiscated several prohibited items from the Negros Oriental Detention and Rehabilitation Center here during a search operation Wednesday.
Lt. Col. Alfonso Enriquez (ret.), officer-in-charge provincial jail warden, told the Philippine News Agency that the governor had requested provincial police director, Col. Germano Mallari, to conduct "Oplan Galugad" at the provincial jail to determine and stop perceived illegal activities inside the facility.
"The inspection is to determine whether illegal activities inside the jail, such as the sale and use of prohibited drugs and other substances, are taking place," Enriquez said in mixed English and Cebuano.
It is also part of the PNP and the PDEA's campaign against illegal drugs, he said.
Enriquez disclosed that while no illegal drugs were confiscated during the inspection, one person deprived of liberty (PDL) is now in isolation after he tested positive for illegal drug use.
The PDL on Tuesday applied for parole and probation, and one of its requirements was for him to undergo a drug test, he said.
"It is surprising that he tested positive for shabu while under detention, so the question now is where did he get the prohibited drug," he added.
The subject, whose name has been withheld pending further investigation, has refused to cooperate with authorities.
But Enriquez said he believes there are others inside the jail that could also be using or transacting illegal drugs.
During the Oplan Galugad operation, law enforcers seized several cellular phones, bladed weapons, and sharp objects from the different cells.
The confiscated items were destroyed in the presence of media practitioners, he said.
Cellular phones, unless deposited with a jail officer, are prohibited inside the facility to avoid illegal transactions with outside contacts.
Bladed weapons and sharp objects are also not allowed as these can be used to harm people, he added.
The provincial jail has over 400 PDLs, including 19 women, Enriquez said. (PNA)