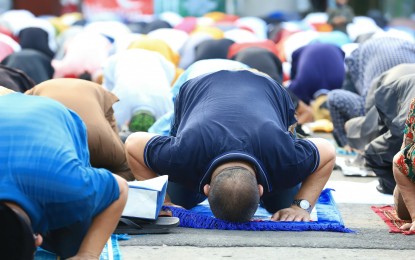 MANILA – Local government units (LGUs) have been encouraged to allow the Muslims in their respective localities to have "small" gathering for the celebration of Eid'l Adha despite the Covid-19 pandemic.
During the Laging Handa public briefing over PTV-4 on Wednesday, Samira Gutoc, former member of the legislative assembly of the Autonomous Region in Muslim Mindanao, said Eid'l Adha is the second biggest event for the Muslims.
"Ang major activity, a prayer, a mass gathering, kung kakayanin po, kung puwede po, allowable ng LGU (The major activity, prayer, mass gathering, if possible and allowed by the LGU)," Gutoc said.
She said health and safety protocols like wearing of face masks will be strictly observed during the small gatherings to celebrate Eid'l Adha.
"We are reminding the mayors and governors, pagbigyan naman ninyo iyong Muslim community ninyo sa inyong municipality to have a kaunting (please allow your Muslim community in your municipalities to have a small) gathering, so that they can distribute the meat and also pray together if allowable, observing health protocols," Gutoc said.
Gutoc said there are around 10 million Muslims in the country.
On Wednesday, Malacañang issued Proclamation No. 2 declaring July 9, 2022, Saturday, a regular holiday nationwide in observance of Eid' Adha.
Eid'l Adha is the second of two Muslim holidays celebrated by Muslims around the world and is considered holier than Eid'l Fitr.
It commemorates Abraham's willingness to sacrifice his son as an act of obedience to God's command.
Meanwhile, Gutoc lauded Senator Robin Padilla for filing the anti-discrimination bill as Muslims often experience discrimination because of the way they dress.
"That (proposed bill) will ensure that our Muslim brothers and sister can wear their attire. Before, someone told me to take off the veil covering my head. It seems that it is frightening to wear it as well as our traditional Muslim attire. So, I hope there will be no more stereotyping like that because we are fighting for it," Gutoc said.
She also expressed hope that the government will continue to give attention to attaining a harmonious Muslim-Christian relationship through dialogue toward lasting peace. (PNA)