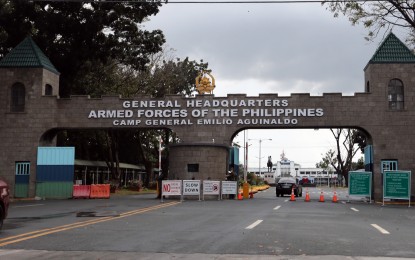 MANILA – President Ferdinand "Bongbong" Marcos Jr. will adhere to the law granting a fixed three-year term for key officials of the Armed Forces of the Philippines (AFP), Malacañang said Wednesday.
Press Secretary Trixie Cruz-Angeles said Marcos would keep AFP Chief of Staff, Lt. Gen. Andres Castor Centino, in his post until the end of his fixed three-year term in February 2023.
"This is a law, right? And it's been passed so the President adheres to the law. Whatever is stated in the law. If his term has been during the time of the effectivity of the law, then the President will abide by that," she said in a Palace press briefing.
Cruz-Angeles was referring to Republic Act (RA) 11709 that was signed by former president Rodrigo Duterte in May 2022, which ensures the AFP chief of staff would serve for three fixed years.
This ends the "revolving door" policy that gave rise to military chiefs serving for only a few months before mandatory retirement.
Aside from the AFP chief of staff, other military officials who will get a fixed three-year term are the vice chief of staff; deputy chief of staff; commanding general of the Philippine Army; commanding general of the Philippine Air Force; flag officer in command of the Philippine Navy; unified command commanders; and inspector general.
Under RA 11709, the tour of duty of these military officers will commence on the date the appointment is signed and will occupy the post for three consecutive years unless terminated by the President, provided that those mentioned will not be eligible for any other position in the AFP unless promoted to the position of chief of staff.
Asked if the President has already come up with a list of Centino's successors, Cruz-Angeles said it was too early to do so.
"It's really speculative at the moment," she said.
Centino was named AFP chief of staff on Nov. 12, 2021. He was born in Tacloban City on Feb. 4, 1967.
He is the 57th AFP chief and the 11th under Duterte in less than six years.
New FDCP chair
Meanwhile, Cruz-Angeles confirmed that Marcos has named actor Tirso Cruz III as the new chairperson and chief executive of the Film Development Council (FDCP), replacing Liza Diño-Seguerra.
Diño-Seguerra was reappointed as the national film agency's chair in March. She was supposed to serve for another three-year term that lasts until 2025.
On July 1, Malacañang issued Memorandum Circular 1 declaring certain positions in the Executive Department vacant.
Under MC 1, all presidential appointees holding co-terminus appointments, as well as those occupying posts created in excess of the authorized staffing pattern, are deemed separated from office effective noontime of June 30, the time when Marcos took oath as the country's 17th president.
Also deemed separated from service are non-Career Executive Service Officials (CESO) occupying Career Executive Service (CES) positions and contractual or casual employees.
Cruz-Angeles said this memo applies to Diño-Seguerra.
"I think she (Diño-Seguerra) would fall under Memorandum Circular No. 1 and therefore the appointment is correct," she said.
Diño-Seguerra earlier assured the public in a video message on her Facebook page that she is aware of her successor in her FDCP post. (PNA)