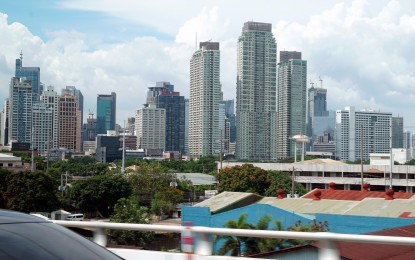 MANILA – Finance Secretary Benjamin Diokno is optimistic about a double-digit growth for the domestic economy in the second quarter of 2022 following the 8.3-percent expansion in the first three months this year.
"Q2 2022 will hit double-digit growth. That's my bet," he told journalists in a Viber message on Wednesday.
During a Palace briefing, Diokno said the government expects full-year growth, as measured by gross domestic product (GDP), to be between 6.5 to 7.5 percent, which are "conservative figures."
"In fact, this is going to be the highest. The consensus is this will be the highest growth rate among all Asean+3 countries this year and next year," he said.
Diokno said domestic growth will likely be stronger in the second quarter, adding the first quarter was even affected by a surge in coronavirus disease 2019 (Covid-19) infections but growth remained strong.
He also discounted wider lockdowns if ever there will be another uptick in Covid-infections.
"We have now graduated from being pandemic to endemic," he added. "We have to live with the virus because a lot of people have been vaccinated against the virus.
For 2023-2028, the growth projections are between 6.5 to 8 percent, he said.
The 2022 growth figures cited by Diokno are lower than the 7 to 8 percent projection approved by the inter-agency Development Budget Coordination Committee (DBCC) during its meeting last May 24.
DBCC's approved 2023-2025 growth projection is between 6 to 7 percent.
Meanwhile, Diokno said the poverty level is targeted to decline to 9 percent by the end of the Marcos administration, lower than the estimated 23.7 percent as of the first semester of 2021 based on Philippine Statistics Authority (PSA) data.
He said the target for the share of the government's budget deficit to GDP is 3 percent from 2026-2028, while debt-to-GDP ratio is eyed to decline to 60 percent by 2025 from 63 percent to date.
Diokno said infrastructure spending under the "Build, Build, Build" program will account for around 5 to 6 percent of GDP from 2023-2028.
"And finally, we want to achieve what is called an upper middle income status. So that means that we are shooting for a USD4,046 per capita income by the end of the President's term," he added.
The previous administration eyed the country to be elevated to the middle income country status by 2022 but it was hampered when the pandemic hit.
The World Bank (WB) on July 1, 2021 revised its gross national income (GNI) per capita range for the upper middle income countries to between USD4,096-USD12,695 from USD4,046-USD12,535.
WB data shows that the country's GNI per capita as of 2021 was around USD3,640. (PNA)