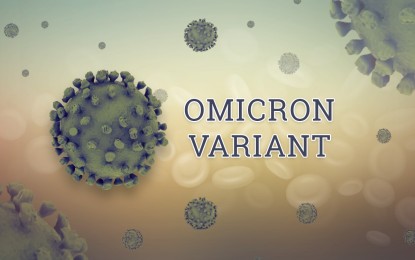 MANILA – The country has detected 97 additional cases of Omicron BA.5 subvariant, the Department of Health (DOH) reported Thursday.
Earlier, about 43 BA.5 cases were detected which brought the total number of new infections to 140 for this week.
Of the total BA.5 tally, 99 cases were from Western Visayas; 21 from the National Capital Region (NCR); seven from Calabarzon; five from Ilocos Region; one each from Central Luzon; Bicol Region; Central Visayas; Eastern Visayas; Northern Mindanao; Mimaropa; and one returning overseas Filipino.
"Sixteen individuals are fully vaccinated, tatlo po ay hindi bakunado, habang kasalukuyang bine-verify pa namin ang vaccination status ng 121 individuals (three are unvaccinated, while the vaccination statuses of the remaining 121 individuals are still being verified)," Health Undersecretary Maria Rosario Vergeire said in a media forum.
The DOH is still verifying the exposure and travel history of each of the infected individuals.
Thirteen cases presented mild symptoms, two individuals were asymptomatic and the symptoms of the remaining 125 are being verified.
Currently, 129 of the cases are tagged as recovered, four are still undergoing isolation while the outcomes of the remaining seven are still being verified.
"Based on our latest sequencing run, overall, there are 233 cases of BA.5 detected in our country," Vergeire said.
There were also 20 additional BA.2.12.1 cases - five were from the NCR, four each from Western Visayas and Calabarzon; two from the Cordillera Administrative Region; one from Region 1 (Central Luzon) and four were returning overseas Filipinos.
Nine of them are fully vaccinated, one is unvaccinated, and the vaccination status of the remaining 10 cases are still being verified. The DOH is also verifying their exposures and travel histories.
Seventeen out of the 20 cases are tagged as recovered and the outcomes of the three are being verified.
Meantime, about seven additional BA.4 cases were also detected earlier. Six of the cases were from Western Visayas and one was from the NCR.
Their exposure and travel histories are still unknown.
Five cases are fully vaccinated while the two are unvaccinated.
Moreover, three presented mild symptoms, three are asymptomatic, and the symptoms of the other case are still being verified.
All seven cases are now tagged as recovered.
To date, the country has logged a total of 70 BA.2.12.1 cases and 10 BA.4 cases. (PNA)