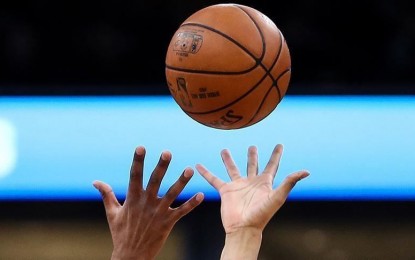 MANILA – Wangs-Letran escaped a late push from Adalem-St. Clare to score a 94-87 win at the start of the PBA D-League Aspirants Cup on Thursday at the Smart Araneta Coliseum in Quezon City.
In the battle pitting the top teams of the National Collegiate Athletic Association (NCAA) and the National Athletic Association of Schools, Colleges, and Universities (NAASCU), the NCAA champions prevailed despite the NAASCU rulers nearly pulling off a comeback from 23 points down.
The Knights quickly stomped their dominance on the Saints, opening a 43-20 lead with 7:59 left in the first half.
However, Adalem-St. Clare slowly chipped away the lead and was just within three, 85-88, with 59 seconds left in the game.
King Caralipio finally sealed Wangs-Letran's win with a dagger triple with 47 seconds remaining.
Louie Sangalang made 21 points, 11 rebounds, four assists, and two blocks for the Knights, while Caralipio, Tommy Olivario, and Brent Paraiso each added 12 markers.
John Rojas made 25 points, four rebounds, and one steal, while Johnsherick Estrada added 22 points, eight rebounds, six assists, one steal, and one block for the Saints.
In the second game, Centro Escolar University (CEU) clobbered AMA Online Education, 101-82.
Jerome Santos dropped 36 points alongside eight rebounds, six assists, and two steals to lead the Scorpions, who blasted off in the second half to maul the Kings.
Larry Arpia tallied 24 points, three rebounds, two assists, and three steals to lead AMA, which was erratic all game long as evidenced by 42 turnovers. (PNA)