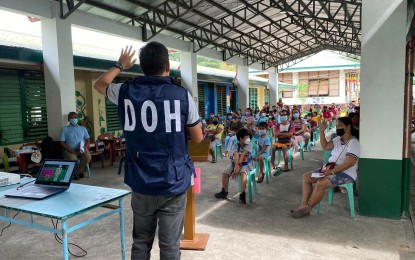 LEGAZPI CITY – The Department of Health in Bicol (DOH-5) has conducted "demand generation activities" to encourage more residents to get vaccinated as the region logged increase of Covid-19 cases.
Noemi Bron, DOH-Bicol Health and Promotion chief, said the activity is to inform the public on the importance of the Covid-19 vaccination.
"For the month of June at least 11,997 individuals from different provinces in the region availed the vaccination, and the campaign will be sustained by the Local government units (LGUs)," Bron said in interview on Thursday.
She said the demand generation activities were conducted in various schools in the municipalities that have low vaccination coverage for children aged 5 to 11 years old.
"During the activities for the month of June, a total of 11,997 individuals were vaccinated - 2,208 individuals from Albay; Camarines Sur - 5,372; Camarines Norte - 471; and Masbate - 3,946," she added.
She said the activity will be continued for the month of July with the DOH employees providing assistance.
"With the increasing cases of Covid-19 in the Bicol Region, getting vaccinated and boosted is essential in being protected from severe and critical forms of Covid-19," DOH-5 said in an advisory.
A total of 82 new cases were recorded from June 26 to July 2 or 161 percent increase from 32 cases recorded the previous week (June 19 to June 25).
Of the 82 new cases logged in Bicol region, Sorsogon has 13 new cases, Camarines Sur – 17; Catanduanes – 13; Albay – 37, and Camarines Norte – 2.
The region has so far recorded 401 active cases, 33 recoveries and six deaths.
With the increasing number of Covid-19 cases, DOH Bicol urged the public to continue practicing health protocols such as wearing the best-fitted face masks, hand washing, hand sanitizing, social distancing, and ensuring airflow.
The three (3) Cs – closed contact, closed spaces, and crowded places should also be avoided. Self-isolation and early consultation should also be observed once symptoms manifest.
"On top of these personal practices, the importance of being vaccinated and receiving the required number of booster doses is emphasized. Vaccines are proven effective as shown by the low number of cases to no recorded cases in previous months. However, due to the waning immunity from vaccines, the DOH Bicol also urges the public who are due for booster doses to get their booster shots," DOH-5 said. (PNA)