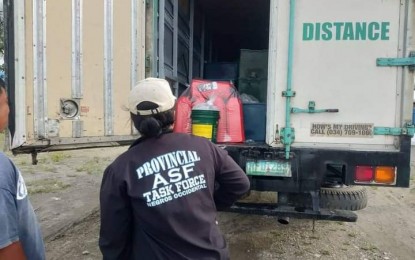 BACOLOD CITY – Negros Occidental's provincial government continues to strengthen its border control operations to prevent the entry of live pigs and pork products amid the continuing threat posed by African swine fever (ASF).
Having a PHP6-billion hog industry, Negros Occidental is the country's number one backyard swine producer.
"We need to strengthen our borders because we need to maintain our ASF-free status," Dr. Placeda Lemana, officer in charge of the Provincial Veterinary Office, said Thursday.
The latest report from the Bureau of Animal Industry of the Department of Agriculture (DA) showed a confirmed ASF case on Camiguin Island.
So far, 14 regions have confirmed cases except for three – Western Visayas, Central Visayas, and the Bangsamoro Autonomous Region in Muslim Mindanao.
This July, Negros Occidental marks the third year of the creation of the Provincial ASF Task Force with sustained efforts of stakeholders to keep the province's ASF-free status after the outbreak of the hog disease in many parts of the country.
Since Sept. 18, 2019, the province has prohibited the entry of live pigs, pork, and pork products coming from Luzon, Mindanao, and Eastern Visayas, which all have confirmed cases of the swine disease.
Several millions of assorted pork products have been confiscated in various ports of entry and establishments around the province in the past three years.
The DA has tagged Negros Occidental as a "green zone" or an ASF-free province, making it one of the most trusted and major suppliers of pigs for slaughter in Luzon and other parts of the country.
Since it was first detected in Luzon in 2019, the ASF has spread to 53 provinces, 704 cities and municipalities, and 3,832 barangays. (PNA)