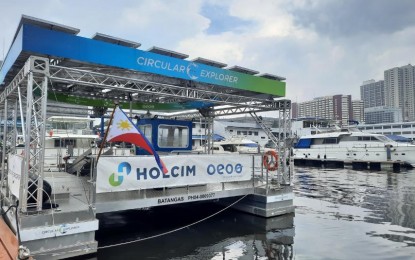 MANILA – The Philippines was chosen by cement manufacturer Holcim to launch its first Circular Explorer, a pioneering solar-powered catamaran designed to help in cleaning coastal areas in the country.
Holcim's Circular Explorer is a prototype of catamaran created to recover and recycle plastic from bodies of water.
During the launch at the Manila Yacht Club Thursday, Holcim Philippines president and chief executive officer Horia Adrian said the Circular Explorer will go around Manila Bay in the next three years to help in the government's effort to rehabilitate the bay.
Operated by One Ocean One Earth, the Circular Explorer has a capacity to hold four tons of recovered plastic waste per shift.
Adrian said the recovered plastic from the bay will be brought to Holcim Manila Terminal to sort plastic waste that could still be recycled. Other plastic waste will also be processed as an alternative fuel used by the company in its operation.
"It is an initiative of the Holcim Group. We are proud in the Philippines as we are selected as the first country to host this vessel," he added.
Holcim Group sustainability and innovation officer Magali Anderson said the company chose the Philippines to pioneer the Circular Explorer as it believes that the vessel will create the most impact here and the firm also has "great operations" in the country.
"The Circular Explorer is a symbol of Holcim's commitment to sustainability and its key principles are reducing the footprint of building, recycling materials across our business, but also regenerating marine ecosystem and in general, all our ecosystems. That was the vision for our project. We want to multiply this. If we can make this happen in Manila, we should be able to multiply this in the Philippines to start with, and around the world ideally," Holcim Group head of communications and public affairs Nollaig Forrest added.
Aside from helping in the clean-up drive in Manila Bay, Adrian said the Circular Explorer is part of the Holcim Group's advocacy to promote a circular economy.
Circular economy addresses climate change challenges by "building more by using less", as it reuses existing materials and recycles generated waste to preserve the resources of the planet and avoid adding more waste to the planet.
Adrian added that Holcim, through the Circular Explorer, will be partnering with schools and universities in the country to raise awareness about the circular economy and address issues on plastic waste in coastal areas.
"It's really a matter of pride for us because Holcim is the biggest name in construction activity in the Philippines, and if we are not showing and leading by example about the future way of building the country, then who? We took the responsibility as the leading brand in the country to make this happen and give an example to the Philippines," Adrian said. (PNA)