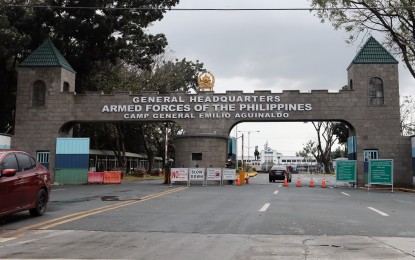 MANILA – The Armed Forces of the Philippines (AFP) said it will file charges against the New People's Army (NPA) for its landmine attack that wounded seven soldiers in Mapanas, Northern Samar last July 5.
"As stated by our commander there, Maj. Gen. (Edgardo) De Leon (of the 8th Infantry Division) that we will be filing cases against the perpetrators for violation of Republic Act 9851 (An Act Defining And Penalizing Crimes Against International Humanitarian Law, Genocide And Other Crimes Against Humanity, Organizing, Jurisdiction, Designating Special Courts, and For Related Purposes), and other cases probably frustrated murder because what they did is a criminal act and it is in violation of the International Law," AFP acting spokesperson Col. Medel Aguilar said when asked for updates about the incident in a hybrid press conference Thursday.
Earlier, Department of National Defense officer-in-charge, Senior Undersecretary Jose Faustino Jr. said the NPA landmine blast is in violation of the Ottawa Convention which prohibits the use of landmines.
"What we want to achieve is to make sure that they don't do the same act again so that it will put the life of our people in danger not just the military but including the civilians because the place where they put these mines is a place (also used by civilians) so anybody could be passing that place and we hope that they will not do it again," Aguilar added.
The Communist Party of the Philippines-NPA is listed as a terrorist organization by the United States, European Union, the United Kingdom, Australia, Canada, New Zealand, and the Philippines.
The Anti-Terrorism Council also formally designated the National Democratic Front as a terrorist organization on June 23, 2021, citing it as "an integral and inseparable part" of the CPP-NPA created in April 1973. (PNA)