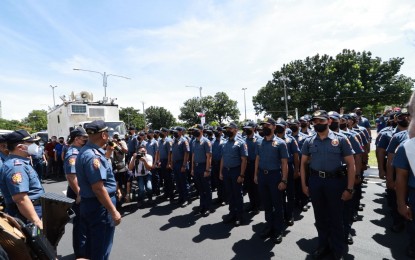 MANILA – The Philippine National Police (PNP) on Friday welcomed the conviction of five former police officers on kidnapping charges, saying it highlights its firm resolve to rid the force of scalawags.
"The guilty verdict of (former) Insp. Ronaldo M. Prades, PO3 Rigor R. Octavio, PO2 Sajid Anwar Encarnacion Nasser, PO1 John Mark DG Cruz, and PO1 Anthony P Fernandez for the violation of Article 267 of the (Revised Penal Code) RPC (Kidnapping), vindicates the operation of PNP CITF (Counter-Intelligence Task Force) and the complaint of the victim last 2019," PNP spokesperson Brig. Gen. Roderick Augustus Alba said in a statement.
He said this proves that the PNP has zero-tolerance for the illegal activities of its members.
"While the PNP IMEG (Integrity Monitoring and Enforcement Group) - formerly CITF, and the rest of the units shall continue to police its own ranks and any complaint against a police officer will be addressed immediately," Alba said.
Meanwhile, National Capital Region Police Office chief Maj. Gen. Felipe Natividad said the conviction shows the police force is serious about upholding discipline and justice.
Natividad said the former police officers will now face the consequences of their actions.
In a June 20 decision, the Makati City Regional Trial Court Branch 148 sentenced Prades, Octavio, Nasser, Cruz, and Fernandez, all members of the Pasay City police anti-drug unit, to 40 years in prison for detaining a drug suspect and demanding PHP100,000 for his release in March 2019. (PNA)