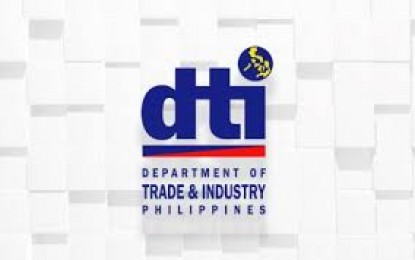 MANILA – The Department of Trade and Industry (DTI) on Friday said the agency has promoted the Philippines to Chinese manufacturers of batteries and electric vehicles as their next destination for their investments.
This as the DTI participated in the 2022 International Summit on Lithium Battery Technology and Application for Light Electric Vehicles (BLEV 2022) in Guangzhou, China recently, where it pitched the investment opportunities in the Philippines for e-vehicle and battery manufacturers.
DTI Foreign Trade Service Corps (FTSC) Assistant Secretary Glenn Peñaranda told Chinese firms that the Philippines enacted the Electric Vehicle Industry Development Act (EVIDA) into law last May which will support the growth of the local e-vehicle industry.
"(EVIDA) provides for a national policy framework to develop the electric vehicle industry in the Philippines, particularly for the shift to EVs and for further attracting investments and creating high-value jobs," Peñaranda said.
With the passage of the EVIDA, industry stakeholders will create a Comprehensive Roadmap for the Electric Vehicle Industry (CREVI) that will serve as a national blueprint for the e-vehicle sector.
The roadmap aims to accelerate the development, commercialization, and utilization of e-vehicles and the Electric Vehicle Incentive Strategy (EVIS).
Aside from EVIDA, other policies of the Philippine government to promote the growth of e-vehicles in the country include the Public Utility Vehicle Modernization Program and the Strategic Investment Priority Plan (SIPP), where investments in green ecosystem are qualified for fiscal incentives.
Under the Tier II of the SIPP, investments in green economy include assembly of e-vehicles; manufacture of parts and components; and establishment and operation of e-vehicle infrastructure such as charging stations, renewable energy, energy efficiency, conservation projects, energy storage and integrated waste management, disposal, and recycling.
Earlier, DTI Secretary Alfredo Pascual said one of his priorities as trade chief is for the country to have integrated facilities for the processing of minerals, including green metals, which are used for making batteries.
He said the Philippines can be a vital partner for critical minerals not only exporters, but to be processor form semi-finished and finished products.
Meanwhile, former DTI Secretary Ramon Lopez said there have been investment prospects for the Philippines in the e-vehicle industry, which include investments for e-vehicle ecosystem and e-vehicle infrastructure such as charging stations; battery technologies such as green metals processing for batteries of e-vehicles and other applications; and battery energy storage systems. (PNA)