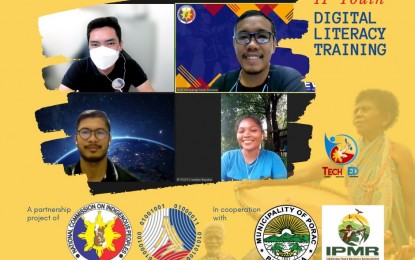 CITY OF SAN FERNANDO, Pampanga – The Department of Information and Communications Technology-Central Luzon (DICT 3) is eyeing to empower the indigenous people (IP) youth in Porac through digital technology.
In partnership with the National Commission on Indigenous Peoples (NCIP) Community Service Center, the DICT 3 will pilot face-to-face IP Youth Digital Literacy Training from July 18 to 22.
DICT Pampanga head Edriel Miranda said on Friday the training will allow the IP youth to advance their level of computer proficiency.
Using five training modules, Miranda said the project seeks to provide a basic training course on computer and Internet essentials, computer hardware, networking and troubleshooting, document processing, electronic spreadsheet, and multimedia presentation.
He said the government has been filling the gaps and the lack of opportunities and access of the IP youth to digital technology.
"The digital literacy training will allow our IP youth to find decent jobs in the future and help them become productive members of their communities," he said in social media post.
The digital literacy training comes following the establishment of the Technology Empowerment for Education, Employment, Entrepreneurship, and Economic Development center in Porac last May 17, which enabled the IPs to access various information and communications technology and government services.
The center is part of the government's efforts to provide a venue for studying, working, and availing of online government services in digitally underserved and unserved areas of the country.
Miranda said they are planning to do the same training for IP cooperatives from the ancestral domains in this province. (PNA)