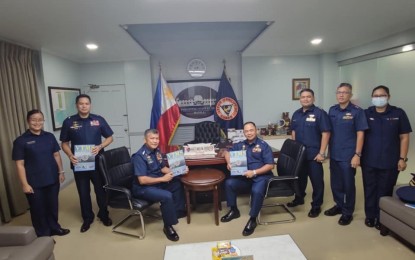 MANILA – The Philippine Coast Guard (PCG) said Friday the newly signed Center Cebu operations manual on the Vessel Traffic Management System (VTMS) would help guide and provide standard approaches on VTMS and promote safe and efficient navigation along the Cebu-Mactan channel.
In a Facebook post, the PCG said the manual contains procedures to guide VTMS managers, supervisors, and operators "in their respective duties and responsibilities" at the VTMS Center.
"It also provides standard approaches for VTMS personnel and operational guidelines in implementing their functions to promote the safety of life at sea, ensuring effective and efficient navigation, and protecting the marine environment within the Cebu-Mactan channel," the PCG said.
It added that the manual was approved by PCG Commandant Admiral Artemio Abu during a courtesy call by Maritime Safety Services Commander Rear Adm. Joseph Coyme and Navigational Safety Services Unit Commander Captain Eugenio Federico at the PCG headquarters in Manila on Wednesday.
"CG Admiral Abu signed the VTMS Center Cebu Operations Manual, making it ready for promulgation," the PCG said.
Other key officers of the PCG Maritime Safety Services, it said, also joined Wednesday's meeting. (PNA)