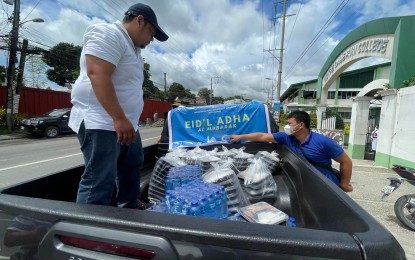 MANILA – On the eve of the observance of Eid al-Adha (Feast of Sacrifice), President Ferdinand "Bongbong" Marcos Jr. enjoined the public to step out of their comfort zones and fight for what is right.
Marcos said the commemoration of one of the main celebrations of Muslims on Saturday is a reminder that "with deep faith and loyalty to our virtues, we can take risks for hefty costs, even if it means losing those whom we love and letting go of many things that matter to us."
"The solemn narrative that punctuates this occasion tells us that, at the onset of this administration, we must prepare ourselves to go beyond our comfort zones as we walk the path we have willingly chosen," Marcos said in his Eid al-Adha message issued Friday.
The feast celebrates prophet Abraham's faithfulness to God after being tested with the unfulfilled command to sacrifice his son. It also marks the end of the yearly Hajj pilgrimage.
Eid al-Adha has been declared a regular non-working holiday to allow Muslim Filipinos to celebrate it, subject to public health measures
The President noted that those who decide to take a big leap, despite the possible challenges that they may face, would reap the rewards of their success.
"The journey ahead of us will not be easy, but if we fight for what is right and predicate our every action on our love for our fellowmen and women, our people will surely benefit from the results of our individual choices," he said.
Marcos expressed hope that unity would prevail despite differences between Muslims and other religious groups, emphasizing the need to build a "strong" and "one" nation.
"As we join hands towards achieving our shared goals, I hope that we will transcend our differences, break the chains of divisiveness, and emerge strong as one nation," Marcos said. "Let us, therefore, offer ourselves for the sake of others and take to heart the lessons we learn so that we may be rewarded spiritually and become worthy recipients of Allah's manifold blessings and protection."
He wished Muslim Filipinos a "solemn and meaningful" observance of Eid al-Adha.
"As we commemorate how Ibrahim offered his son in obedience to Allah, let us likewise believe that in entrusting ourselves and surrendering our worries to Supreme Authority, all our heart's desires for the greater good will be heard and granted," Marcos said.
The Department of National Defense (DND) also joined Muslim Filipinos in celebrating one of Islam's two major holidays.
"In this year's commemoration of Eid al-Adha, may we be reminded of the importance of faith and courage, especially as we start a new chapter in our nation's history. On this day, we are given the chance to look into our values as we reach out to others in the spirit of compassion and patriotism," DND officer-in-charge, Undersecretary Jose Faustino Jr. said in a statement.
He also urged them to work with the government in fostering lasting peace and unity "for the betterment of our great nation".
The Philippine National Police (PNP), meanwhile, recognized the role of Muslim Filipinos in pursuing unity and progress.
"Your unwavering devotion and faith inspire this nation, and we will continuously stand in unity with you as we all work towards a peaceful and more progressive country," PNP officer-in-charge, Lt. Gen. Vicente Danao Jr. said in a separate statement. (with Priam Nepomuceno and Lloyd Caliwan/PNA)