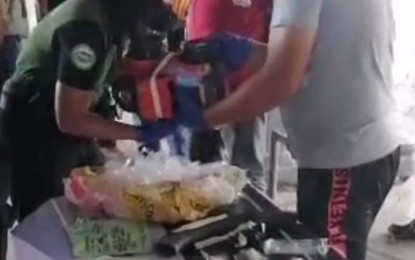 ZAMBOANGA CITY – Ten people were arrested when government operatives seized some PHP875,060 worth of illegal drugs in separate anti-drug operations in the past week here in the Zamboanga Peninsula.
The biggest drug haul, though no one was arrested, was on Tuesday when government agents intercepted a shipment of some 70 grams of suspected shabu worth PHP442,000 at the Zamboanga International Airport.
The shipment was intercepted after airline personnel alerted the police about a black spot on a parcel containing a toy truck that was subjected to an X-ray inspection.
A K9 dog of the Philippine Coast Guard (PCG) was sent to confirm the presence of an illegal drug substance and when authorities opened the parcel, they found the suspected shabu concealed in a rubber tube and attached to the toy truck.
Jury Rocamora, Philippine Drug Enforcement Agency (PDEA)-Zamboanga City office chief, said the parcel was sent by a resident of Barangay San Roque, this city, to Barangay Sta. Monica, Puerto Princesa City, Palawan.
Rocamora said that they have yet to ascertain the true identities of the sender and the supposed receiver of the parcel in coordination with the PDEA in Palawan.
The week's second-biggest drug haul was on Wednesday when policemen arrested an online seller in an anti-drug operation around 11:30 p.m. in Barangay Baliwasan, this city.
Col. Alexander Lorenzo, Zamboanga City Police Office director, said seized from the possession of the suspect, Anersa Hassan, 30, were some 50 grams of suspected shabu worth PHP340,000.
Lorenzo said that also recovered from Hassan were 86 pieces of PHP1,000 boodle money topped with a genuine PHP1,000 marked money, a smartphone, and a plastic bag.
Meanwhile, Col. Albert Larubis, Zamboanga Sibugay police director, said that a high-value individual suspect, Khalid Anduhol, 28, was arrested on Tuesday in Barangay Bangkerohan, Ipil, the province's capital.
Larubis said that seized from Anduhol, who is on probation, were some PHP40,500 worth of suspected shabu and PHP500 marked money.
The rest of the suspected shabu were seized from the other eight suspects, including two women, who were arrested in separate anti-drug operations in the region, according to the Police Regional Office-9 (PRO-9.
The PRO-9 said they were arrested in Zamboanga del Sur (five), Zamboanga City (two), and Zamboanga del Norte (one). (PNA)